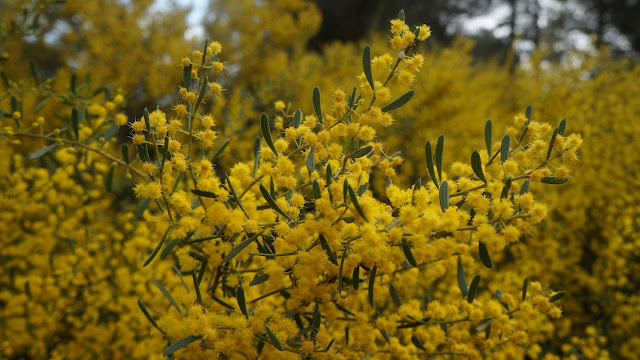 Acacias produce masses of bright yellow blooms in late winter. See the collection at UC Davis on Saturday.
(Photo: Courtesy UC Davis Arboretum)
UC Davis Arboretum tour showcases unusual trees, shrubs
In late February, the
Eric E. Conn Acacia Grove
offers one of the prettiest walks on the UC Davis campus. Near Putah Creek, bright yellow acacia blossoms cover trees and shrubs big and small, creating a memorable spectacle.
See those trees in their late winter glory during a free guided tour, presented by the UC Davis Arboretum. At 2 p.m. Saturday, Feb. 23, "Amazing Acacias" will explore the grove and more than 50 species of acacias.
Native to Australia, Africa and parts of the Americas, acacias produce masses of fuzzy and fragrant blooms. Leaves of thorny varieties from Africa are the favorite food of giraffes. Nicknamed wattles, thornless acacias come from Australia. America's best known acacia is the Hawaiian koa tree
The Conn Collection focuses on species that can survive cold as well as heat. These versatile, low-maintenance evergreen trees and shrubs also are remarkably drought tolerant and well adapted to the Sacramento landscape. Snowy River wattle (
Acacia boormanii
) earned distinction as an Arboretum All-Star and is offered in the arboretum's spring sales.
For the acacia tour, meet at Putah Lodge. Parking is free on weekends and available in Visitor Lot 55. Wear comfortable shoes for this 90-minute walking tour.
Details:
arboretum.ucdavis.edu
or call (530) 752-4880.
- Debbie Arrington