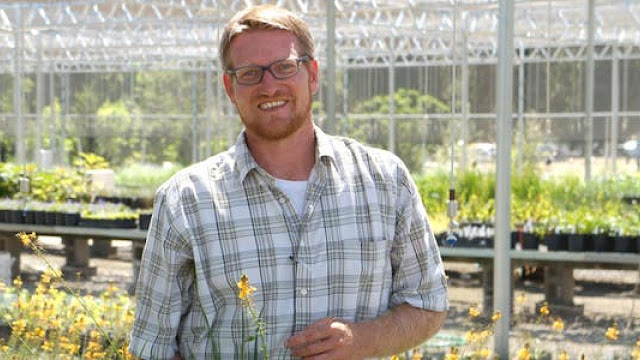 Taylor Lewis, nursery manager, will lead the preview of the UC Davis Arboretum sale on Tuesday.
(Photo courtesy UC Davis Arboretum)
Arboretum Teaching Nursery hosts rescheduled special event
Want to know what will be hot at the UC Davis Arboretum this spring?
See must-have plants for 2019 – and get a chance to take some home, too – at a special arboretum event, "Learn & Shop: Spring Plant Sale Sneak Preview."
Set for 10 a.m. to noon Tuesday, March 5, this preview includes a tour of the Arboretum Teaching Nursery as nursery manager Taylor Lewis shares his insights and points out some of his favorites. Afterwards, attendees will enjoy a private shopping session and the opportunity to get first pick of the nursery's spring inventory.
Originally set for Feb. 26, this event was rescheduled due to inclement weather. Some slots are still available, but open only to Friends of the UC Davis Arboretum. New members may sign up online before registration and get a $10 coupon, too.
Class fee is $34; $46 including reserved parking in front of the nursery. Deadline for tickets including parking is Saturday, March 2. Parking ($9) is also available in the nearby visitor lots. The Arboretum Teaching Nursery is located on Garrod Drive on the UC Davis campus.
For more details and registration:
http://arboretum.ucdavis.edu
.