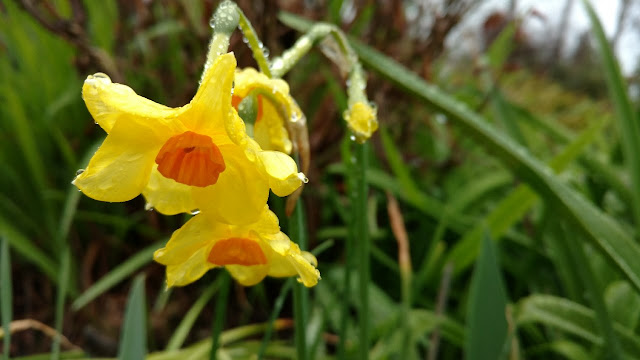 Rain clings to narcissus during Saturday's storm. (Photo: Debbie Arrington)
March starts soggy, but spring is on its way
March starts where February left off -- on soggy footing.
Last month, Sacramento received nearly 9 inches of rain, triple a normal February. March begins with several wet days in the forecast, too, as more precipitation is expected Sunday, Tuesday, Wednesday and Thursday.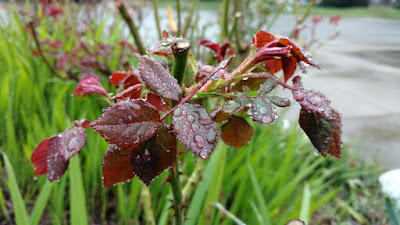 March weather brings out rapid growth on roses. Watch out for aphids.
(Photo: Debbie Arrington)
Although it may not feel like it this week, March also welcomes warmer weather and the beginning of spring. Plants seem to grow before our eyes – especially weeds!
On dry days this week, tackle these tasks:
* Fertilize roses, annual flowers and berries as spring growth begins to appear.
* Pull weeds now! Don't let them get started. Take a hoe and whack them as soon as they sprout.
* Start preparing vegetable beds. Spade in compost and other amendments.
* Prune and fertilize spring-flowering shrubs after bloom.
* Feed camellias at the end of their bloom cycle. Pick up browned and fallen flowers to help corral petal blight.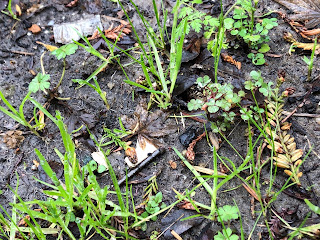 Got weeds? Of course you do. Use a drier day to get those
out of your garden. (Photo: Kathy Morrison)
* Cut back and fertilize perennial herbs to encourage new growth.
* In the vegetable garden, transplant lettuce and cole family plants, such as cabbage, broccoli, collards and kale.
* Seed chard and beets directly into the ground.
* Before the mercury starts inching upward, this is your last chance to plant such annuals as pansies, violas and primroses.
* Plant summer bulbs, including gladiolus, tuberous begonias and callas as well as dahlia tubers.
* Shop for perennials. Many varieties are available in local nurseries and at plant events. They can be transplanted now while the weather remains relatively cool