Gary Schanz knew he had something special the moment he picked this big red camellia.
"You've got to see this," he said before judging at the 95th annual Sacramento Camellia Show. "No one else in Sacramento has one."
Bella Jinhua, a Chinese "sport" of a California camellia, became belle of the ball, winning honors as Best of Show.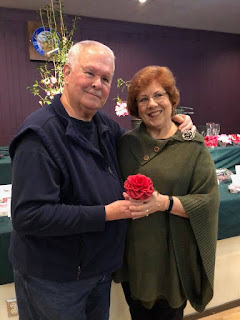 Gary and Carol Schanz with their winning bloom.
(Photo: Camellia Society of Sacramento)
Held March 2 and 3, this event featured several firsts. After decades at Memorial Auditorium, the world's oldest and largest camellia show made a successful debut at the Elks Lodge No. 6 in Greenhaven. Hundreds of flower lovers braved stormy weather to admire tables packed with camellias.
Among scores of perfect flowers, Bella Jinhua stood out as truly unusual. Its slightly pointed petals looked like painted satin, a deep near-black red with feathered crimson edges. Experts who have seen countless camellias stopped to stare.
This is how the
American Camellia Society
describes Bella Jinhua: "The medium formal double flower is dark red with black petal veining on the interior and lighter red on the petal edges. The color will gradually change from dark red to purplish dark red as the flowers open. The broad, round and imbricated petals show a reflected light, similar to that of a rose, with a waxy shine."
In addition to the stunning flowers, the plant tends to have red-tinged foliage, according to the camellia society.
A naturally occurring mutation, this sport was discovered by Poon's Camellia Nursery of Jinhua, Zhejiang, China. Its parent was Nuccio's Bella Rossa, a popular japonica camellia developed by Altadena-based hybridizer
Nuccio's Nurseries
. Nuccio's Bella Rossa produces 4-inch formal-looking crimson flowers without the dark variegation.
Gary and Carol Schanz, who both get credit for this show champion, have been exhibiting camellias for decades. Gardening interest runs in their family. This weekend at his first show as an exhibitor, their grandson Benny won a trophy, becoming the fourth generation to win honors at the Sacramento Camellia Show.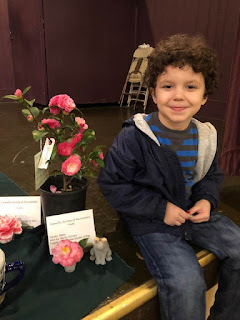 Benny and his winning camellia.
(Photo: Carol Schanz)
"(Benny's) winning flower is Betsy Variegated," Carol wrote on Facebook. "This flower was created by my father, Herbert Martin, named after his mother. Daddy must be smiling from heaven knowing his great grandson is continuing the family tradition with camellias."
After a month of rainy weather, members of the
Camellia Society of Sacramento
were nervous. Would there be any flowers for the show? Would people find them in their new setting?
As usual, the Camellia City came through with hundreds of beautiful blooms and a big crowd.
The new venue proved popular with many show patrons and participants. Free parking and easy access to the exhibit hall were big pluses. So was the Sunday breakfast hosted by the Elks before doors opened for the show on Sunday.
Created by the Sacramento Floral Designer Guild, arrangements filled a second room. Due to space limitations, plant sales and camellia waxing were held in an adjacent hallway, which got pretty crowded at times.
That just shows Sacramento still loves its camellias.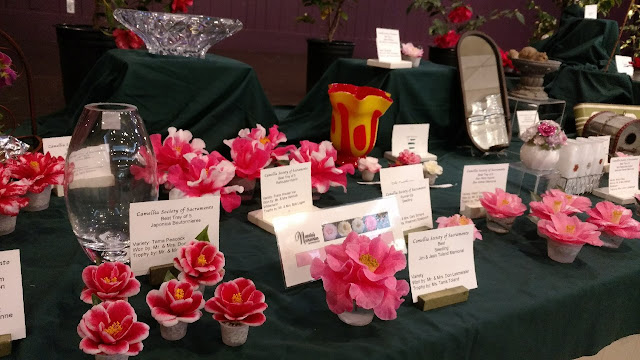 Some of the trophy winners at the 95th annual Sacramento Camellia Show. (Photo: Debbie Arrington)