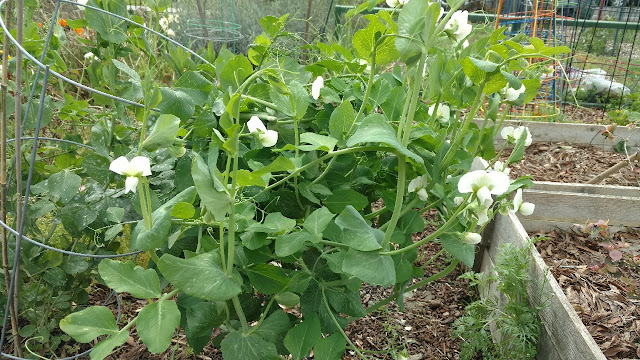 Trellis and tie up pea plants; they can grow rapidly now - and get heavy. (Photos: Debbie Arrington)
After so much rain, spring is on its way
Spring may not officially start until March 20, but we spring forward this weekend. Sunday (March 10) is the start of Daylight Saving Time. Remember to set your clocks ahead one hour.
What does this mean for gardeners? More daylight in the late afternoon and early evening to get things done.
After a wet start to March, warmer (and drier) weather is expected soon. Postpone planting tomatoes until temperatures warm later this month. Meanwhile, consider these tasks:
* As weather permits, prepare beds for planting. Cut down cover crops (such as clover). Add compost and soil amendments. Cover with mulch until you're ready to plant.
* If aphids are attracted to new growth, knock them off with a strong spray of water or insecticidal soap. To make your own "bug soap," use two tablespoons liquid soap -- not detergent -- to one quart water in a spray bottle. Shake it up before use. Among the liquid soaps that seem most effective are
Dr. Bronner's Pure-Castile Soaps
; try the peppermint scent.
* Watch out for early signs of powdery mildew on roses and other ornamentals plants. It explodes when temperatures edge into the 70s. Apply neem or jojoba oil.
* Seed and renovate the lawn (if you still have one). Feed cool-season grasses such as bent, blue, rye and fescue with a slow-release fertilizer. Check the irrigation system and perform maintenance. Make sure sprinkler heads are turned toward the lawn, not the sidewalk.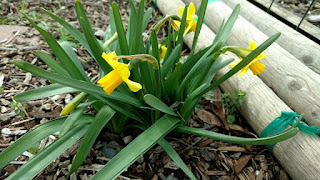 Enjoy your spring flowering bulbs.
Pick some daffodils to enjoy indoors.
* In the vegetable garden, transplant seedlings of lettuce, cabbage, broccoli, collards and kale.
* Harvest those same cool-season crops as they mature. Broccoli tends to bolt quickly in warm weather.
* Harvest peas as they mature. Tie up and trellis vines; they grow rapidly and need more support.
* Seed chard, beets, radishes, carrots and onions directly into the ground.
* A cool start to March means it's not too late to plant such spring annuals as pansies, violas, primroses and calendulas.
* Plant summer bulbs and tubers, including gladiolus, tuberous begonias, callas and dahlias.
* Pick daffodils, tulips and other spring-flowering bulbs to enjoy indoors.