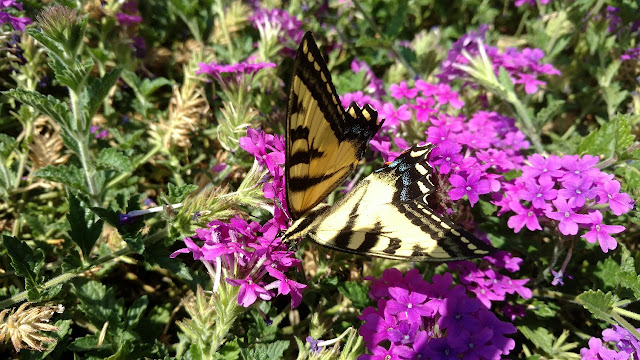 Tiger swallowtail butterflies really go for lantana. (Photo: Debbie Arrington)
'Learn & Shop' class offers ways to attract bees, butterflies and birds
Want more buzz in your backyard? See how – and take home some pollinator favorites -- during a special "Learn & Shop" class at 10 a.m. Tuesday, March 19, at the UC Davis Arboretum Nursery.
"Make Your Garden Pop for Pollinators" starts with a 90-minute guided walk through the arboretum's gardens. Horticulturist Rachel Davis, who manages the hummingbird and pollinator demonstration gardens in the arboretum's GATEways section, will share some easy strategies to attract more bees, butterflies and birds. She'll also point out some of the best pollinator plants for the Sacramento Valley, as showcased in the GATEways gardens.
Afterwards, participants head back the Arboretum Teaching Nursery for a 30-minute private sale and a chance to purchase the plants just seen on the tour.
Registration is now available online. Class only is $12 for Friends of the Arboretum; $18 for general admission. Get the class and a reserved parking spot next to the nursery for $24 for Friends, $30 general. Parking ($9) is also available in nearby visitor lots. Combination class/parking tickets need to be reserved by Saturday, March 16.
Details and registration:
arboretum.ucdavis.edu
.
- Debbie Arrington