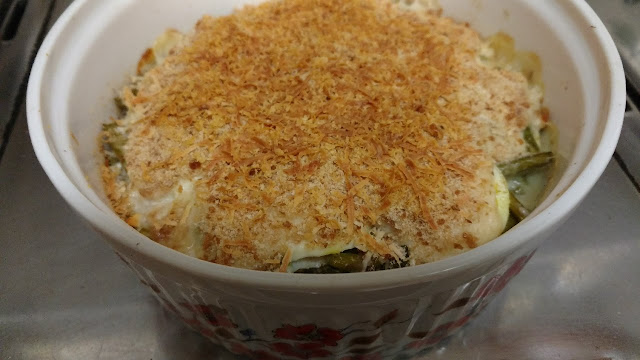 Sort of asparagus au gratin, "Baked asparagus a la Sacramento" goes back at least 84 years. (Photos: Debbie Arrington)
Great-grandmother's recipe a vintage taste of Golden State
The name automatically piqued my curiosity: "Baked asparagus a la Sacramento." I had to try it, but first I had questions.
Where did this recipe come from? When was it printed? What made this veggie casserole distinctly Sacramentan?
This culinary mystery started with my great-grandmother Annie Bauld, who died before I was born. I found the neatly clipped recipe, printed on glossy paper and pasted to a yellowed index card in her recipe box that was passed on to me by my grandmother.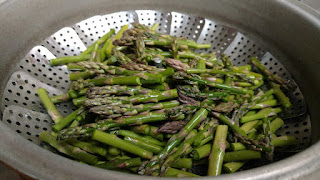 Start with fresh asparagus, broken into
1-inch pieces and steamed.
A native of the Great Lakes, Annie embraced all things Californian after she moved west with her young family in 1906. Her recipe box is full of ways to cook the bounty of fresh vegetables and fruit she found in the Golden State. (On the back of the baked asparagus is a handwritten recipe for baked eggplant.)
Sort of asparagus au gratin, Baked asparagus a la Sacramento is credited to "Mrs. L.F., Sacramento, California," hence (most likely) the name. Also with the clipping is a suggested menu for "A Good Little Dinner": Baked asparagus, broiled ham, sliced tomatoes with horseradish sauce, bread and butter, plum jam, strawberry rice and coffee. (I have no idea what was "strawberry rice.")
Intrigued, I set out to find the asparagus recipe source, asking others for advice. Had they ever heard of Sacramento-style baked asparagus? (All said no.) A friend recalled that the recipe format with the menu suggestion was similar to one used by
Sunset magazine
during the 1930s. Sure enough, that was it; the recipe was originally printed by Sunset circa spring 1935.
I still don't know the identity of "Mrs. L.F.," but she was a thrifty and resourceful cook. Her notes with this recipe read: "This is very delicious. Should there be any leftover, heat in a double boiler with milk to thin it to the desired consistency, and you will have an equally delicious soup."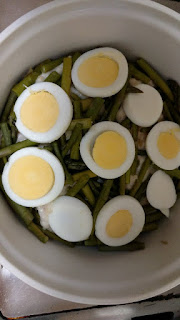 Layer sauce, asparagus and
sliced eggs in casserole dish.
I haven't tried the soup conversion yet, but her Baked asparagus a la Sacramento turned out to be a very tasty side dish indeed. Rich and creamy, it tastes special and is a worthy salute to its hometown.
Note: Since the asparagus is broken into 1-inch pieces, thinner spears work best.
Baked asparagus a la Sacramento
Serves 4
1 pound fresh asparagus, washed
3 hard-boiled eggs
1 tablespoon butter
1 tablespoon flour
1 cup milk
1 cup soft bread crumbs
Salt and pepper to taste
½ cup dried buttered crumbs
¼ cup grated Parmesan cheese
Preheat oven to 375 degrees F.
Break or cut the asparagus into 1-inch pieces. Steam until tender.
Cook, cool and shell the eggs. Slice.
Make a cream sauce with the butter, flour and milk. (Melt the butter in a saucepan, stir in flour until bubbly, then gradually add milk. Cook until sauce starts to thicken.) Add the soft bread crumbs and seasoning.
In a buttered casserole dish, spread a thin layer of sauce on the bottom, then a layer of the cooked asparagus, then a layer of the sliced hard-cooked eggs. Repeat until the dish is filled.
Sprinkle the top with the dried buttered crumbs and the grated cheese. Cover and bake in a moderate oven (375 degrees) for 30 minutes, removing the lid the last 10 minutes to allow the top to brown lightly.
Serve warm.

(Adapted from Sunset magazine)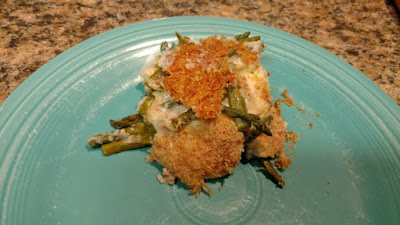 Baked asparagus a la Sacramento is a rich and creamy side dish.