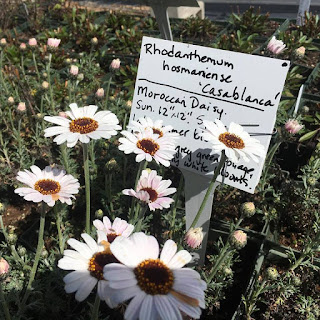 Morningsun Herb Farm, a favorite vendor at this event,
will bring herbs as well as unusual perennials,
such as this Moroccan daisy.
(Photo: Courtesy Morningsun Herb Farm)
Sacramento Perennial Plant Club hosts free event; Arrington featured noon speaker
Start spring with new plants, inspiration and some gifts for your garden (or favorite gardener). Find them all at the 16th annual Vendor Sale, hosted by the Sacramento Perennial Plant Club.
From 9 a.m. to 3 p.m. Saturday, March 23, the
Shepard Garden and Arts Center
will be overflowing with garden-oriented vendors, and not just selling perennials. Among the popular sellers expected for the event are geranium specialist Geraniaceae , Morningsun Herb Farm, Mad Man Bamboo, Paul Matson and his Japanese maples, Golden Pond aquatic plants and The OG cacti and succulents.
Besides an amazing assortment of herbs, Morningsun is expected to bring some unusual perennials, too. March and April are prime perennial planting time.
Also on hand will be artist Carrie Simpson (yard art, bird feeders, reclaimed glass), Friends of San Juan de Oriente (pottery from Nicaragua), Tufarock Designs (natural accents) and Two Bowls Ceramics (handmade pottery for home and garden).
Proceeds from the event help fund the club's grants program, speakers and community gardening projects.
This event isn't just a sale; it's also a chance to learn and get garden advice. Members of the Perennial Plant Club will be out in force to answer questions and offer suggestions.
At noon, featured speaker will be Sacramento Digs Gardening's Debbie Arrington, who will share "Garden Trends for 2019."
Admission and parking are free. Shepard Center is located at 3330 McKinley Blvd., Sacramento, in McKinley Park.
Details:
sacramentoperennialplantclub.org
.