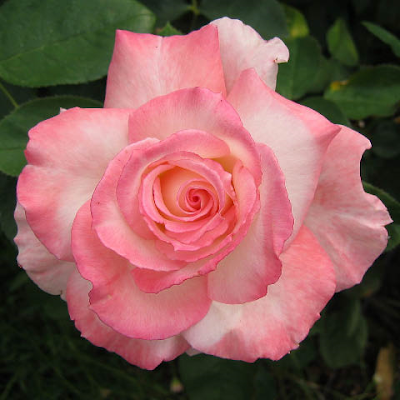 Secret, a hybrid tea, is among the top-rated favorites of local growers.
(Photo: Courtesy Charlotte Owendyk)
Here are some possibilities from local rose experts
In anticipation of my March 21 presentation at the San Francisco Flower & Garden Show, I asked local experts:
What's the best rose to grow in Sacramento?
From eight local rosarians, I got 14 different answers. These are all solid recommendations from people who, collectively, grow thousands of bushes.
Ellie Longanecker: "My all-time favorite rose is Secret as she seems to be a hybrid tea that can bloom as prolific as a floribunda. The flowers last in the garden and in a vase or in an arrangement; disease resistant and fragrance to boot. On top of all that, Secret has few thorns and big spaces on the stems so you can easily handle her without gloves."
Charlotte Owendyk: "It is hard to just have one! My all-time favorite is Secret, of course. This hybrid tea has everything. Fragrance, Lovely blooms, and lots of them. Relatively disease resistant. For floribunda, Julia Child is hard to beat. She produces lots of lovely blooms and is disease resistant. Climber favorite is Fourth of July for its eye-catching blooms that are on parade all summer."
Baldo Villegas: "The ones I love and are commercially available are:
"Dick Clark -- Love the red color with the white reverse; very healthy in my garden; shiny foliage. Always in bloom with as many as 50 blooms at one time. It can get large. In my garden, it grows to 5 to 7 feet tall.
"Sally Holmes -- Can't have enough of this rose. I grow this shrub as a hedge in my front yard along my white fence. It is a white semi-double rose that blooms in large sprays and, when properly pruned, it can show a mass of color in the garden. It is always in bloom. It grows tall, but it can be pruned to fit just about any place you want a tall plant. It is very healthy in my garden.
"Altissimo -- This climbing rose can be combined with Sally Holmes for landscaping purposes. It is a red single-petaled rose that can grow as a tall hybrid tea rose, on an arbor or as a stand-alone rose. It takes shade well and it is always in bloom in my garden.
"Bees Knees -- This miniature rose is NOT readily available, but with over 40 plants in my garden, I can't have enough of this yellow-blend rose that changes color with the temperature. I grow it as a hedge in two areas in my garden as well as a stand-alone plant. It is very colorful and always in bloom in my garden."
Dave and Ruth Coop: "At the moment, our best rose is Neil Diamond. Prolific bloomer, and best of all, is its fragrance. Typical one bloom per stem, exhibition form. Decent disease resistance. We have two."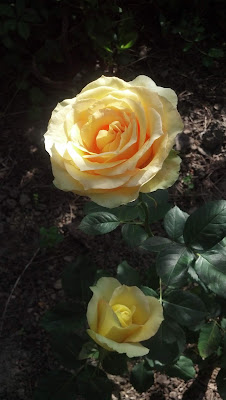 St. Patrick turns green with summer heat.
(Photo: Debbie Arrington)
Janice Lauinger: "The two roses that do best in my garden are Our Lady of Guadalupe, a pink floribunda that is always in bloom, and St. Patrick, a yellow hybrd tea that holds its bloom so nicely even in the heat of summer!"
Sue Magill: "My choice would be Lyda Rose. She can grow in somewhat shady conditions under or near trees. She is in bloom often and has a nice bush habit, looking nice even if she's not in bloom. She is pretty disease resistant. She has few prickles, can be grown in a large container, and looks like apple blossoms. She is a good cut flower."
Cherilyn Duncan: "I had always loved Gentle Giant; its color and the ruffly petals seemed especially beautiful to me. When (husband Kent Duncan) passed, more than one person described him as a "Gentle Giant", so that certainly added to my love of that rose. One of our first trips to Garden Valley Ranch, when Ray Redell was the owner, introduced us to Gold Medal. My mother was with us, and she loved any rose that was yellow or gold, so we bought one for her. Then later, we planted one in our Concord garden, and now have two here in Lincoln. I love the beautiful gold petals with just a faint tinge of pink at the edge. I always enjoy arranging them in a bouquet with Peace; such a delightful combination of soft colors."
As for my own picks? There are so many!
Here are some more possibilities (and a couple of repeats), all from my garden:
Betty Boop: Fun floribunda with lipstick-red edges.
Brandy: Golden apricot hybrid tea.
California Dreamin': Huge creamy hybrid tea blooms with purple edges.
Daybreaker: A floribunda that looks like sunrise.
Dorothy Perkins: A century-old baby pink rambler.
Double Delight: Fragrant red and white blooms get redder with heat.
Easy to Please: A new purple-pink floribunda.
Edisto: A red-and-white miniflora that stands out.
Fired Up: Truly unusual yellow-striped red flowers.
Fragrant Lavender Simplicity: A shrub that lives up to its name.
Friendship: One of the best pink hybrid teas for bouquets.
Gemini: Closely related to Secret, only redder
Home Run: A pink single landscape rose, always in bloom.
Joseph's Coat: Colorful standard for climbers, with red and yellow blooms.
Julia Child: Butter yellow floribunda is yummy.
Kentucky Derby: Big dark red hybrid tea.
Mardi Gras: Orange and yellow floribunda is a party in a vase.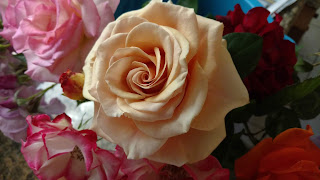 Marilyn Monroe is a winner in rose shows.
(Photo: Debbie Arrington)
Marilyn Monroe: Voluptuous buff-colored hybrid tea is a best in show.
Miss Congeniality: Purple-pink picotee edge makes this creamy hybrid tea different.
Mutabulis: The butterfly rose is an old-fashioned favorite.
Perfect Moment: Brilliant red and gold blend hybrid tea.
Pink Promise: This pale pink hybrid tea has special meaning.
Rainbow Sorbet: This floribunda looks like a rosy sunset.
Shockwave: Brilliant yellow floribunda never fades.
St. Patrick: Gets greener with the heat.
Tamara: A very fragrant apricot shrub from David Austin English roses.
Trumpeter: Hot orange-red floribunda hits the right notes.
Vavoom: Orange juice-hued floribunda has red foliage.
Need more suggestions? Check out the lists at:
www.sactorose.org
.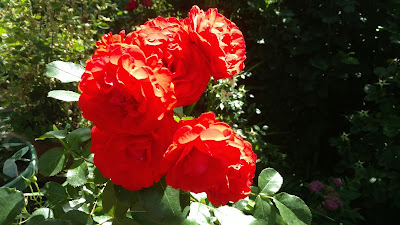 Trumpeter shines in the garden. (Photo: Debbie Arrington)