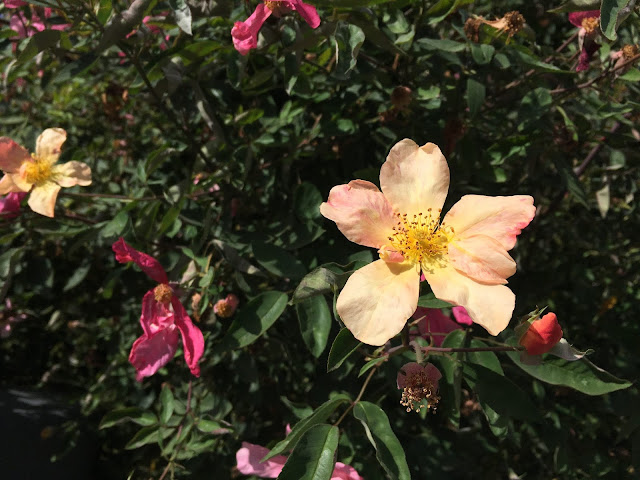 The Historic Rose Garden sale catalog includes Mutabilis, also called the butterfly rose. The catalog includes plot numbers so you can visit the roses ahead of time, perhaps while on the March 30 tour. (Photo: Kathy Morrison)
Enjoy spring bloom Saturday, then plan to take some roses home next month
March coaxes out the first roses of spring – especially at Sacramento's Historic City Cemetery. See for yourself during a special free walking tour, "Spring Beauties Awaken."
Set for 10 a.m. Saturday, March 30, this guided walk through the cemetery's world-famous gardens focuses on the first flowers of this new season, particularly in the Heritage Rose Garden. Home to hundreds of rare and fragrant old garden roses, the cemetery garden features some gigantic bushes and climbers that soon will be covered with thousands of blooms. For example, one Lady Banks rose climbs 60 feet up a pine tree.
Hear the stories behind these roses and smell their fabulous fragrances. You may discover a new favorite.
Patrons should meet at the cemetery's main gate, 1000 Broadway, Sacramento. Parking is available on surface streets. Wear sensible shoes to traverse the cemetery's gravel paths.
This walk is a prelude to the cemetery's annual Open Garden, set for April 13-14. As part of that major event, rose garden volunteers will host their annual auction and sale of roses propagated from the cemetery's collection, considered among the finest anywhere.
A catalog of roses that will be offered for sale is now available online. Find it at:
https://bit.ly/2CEkdpa
Details on the walking tour and open garden:
www.cemeteryrose.org
.