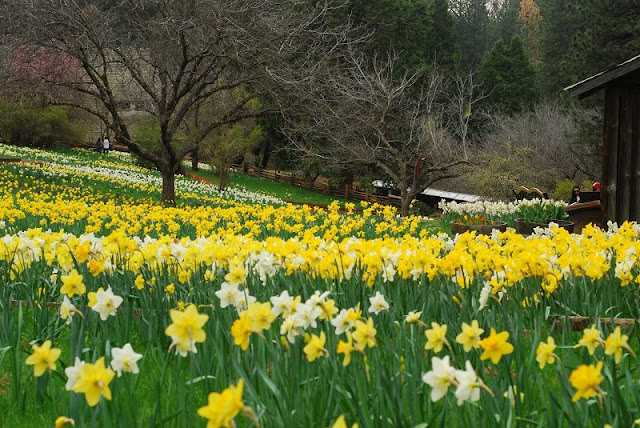 A forecast of rain has shut access to Volcano's famous Daffodil Hill for the rest of this week. (Photo courtesy Daffodil Hill)
Famous flower farm may reopen, but not this week
For anyone who planned a weekday trip to see this springtime extravaganza, the fleeting joy of Daffodil Hill will have to wait.
Due to expected rain, the owners decided to shut the farm gates after only two days. This spring, Daffodil Hill may reopen next weekend or later – or not at all.
"With the anticipated rain for the next week we will be CLOSED (April 1) through the remainder of the week," the McLaughlin family posted on Facebook on Sunday. "Please check the page and call (209) 296-7048 prior to visiting. We will be sure to update our page if/when we reopen. Sorry to those who planned a trip for this week."
Bad weather totally canceled Daffodil Hill's 2018 season as conditions were never quite right to welcome the thousands of flower lovers who trek to Volcano to see its show.
Built-up anticipation caused a massive traffic jam opening weekend as thousands of visitors made the trip up Rams Horn Grade to see these famous flowers. Owned by the same family since 1887, Daffodil Hill boasts more than 300,000 blooming bulbs.
So many cars on such a small winding road caused its own problems. Among them: Where to park? Apparently, some visitors did not follow the signs to the farm's parking lot.
"At the request of the California Highway Patrol, when visiting in the future, please make every effort to park in the parking lot and if you find yourself needing to park on the roadway, please ensure your entire vehicle is off the roadway," the family posted Sunday. "We have experienced numerous traffic-related issues as a result of cars in the roadway. We know traffic can be chaotic/frustrating especially on the weekends, so we appreciate everyone's patience."
When conditions are just right, Daffodil Hill is open 10 a.m. to 4 p.m. daily, usually for just two or three weeks in late March and early April. Rain can cause gravel and dirt paths to become slippery and dangerous. So when storms are in the forecast, the gates remain closed.
Admission is free; donations are welcome and go toward planting more bulbs. The McLaughlin family plants 16,000 more daffodils each year.
At about 3,000 feet elevation, Daffodil Hill is located at 18310 Rams Horn Grade, Volcano. For latest updates, check Daffodil Hill's Facebook page,
https://www.facebook.com/DaffodilHill/
, or call its hotline: (209) 296-7048.