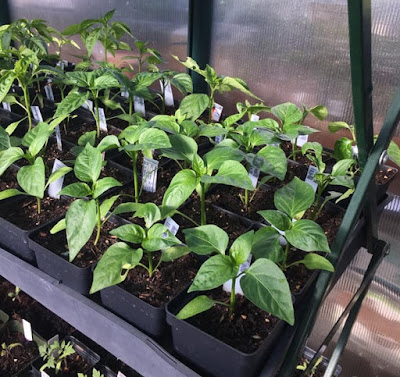 Find peppers and other vegetables, plus ornamentals, cactus and succulents
at the Elk Grove Community Garden's sale Saturday. (Photo courtesy
Elk Grove Community Garden)
Fundraisers this weekend from Fair Oaks to Elk Grove to Davis
Fundraising plant sales really get going in April. Whether or not the weather allows some planting this weekend, check out the offerings and find just the right veggies or ornamentals. These sales help support gardening in Sacramento-area communities, too.
Here are four sales coming up April 6, rain or shine. They're nicely scattered through the region, too, so one is bound to be nearby:
-- The Fair Oaks Community Garden will hold its sale
9 a.m. to 1 p.m. Saturday.
Find starter vegetables and herbs at the perfect time for spring planting.  All plants are donated and proceeds benefit the Fair Oaks Community Garden.  Sale is located at Fair Oaks Park at the rear parking lot near the Horticulture Center, 11549 Fair Oaks Blvd.
-- The Elk Grove Community Garden annual plant sale will run 9 a.m. to noon Saturday. Offerings will include vegetables, herbs, ornamentals, cactus and succulents. The garden is at 10025 Hampton Oak Drive, Elk Grove.
-- The spring sale by the Sacramento Valley Chapter of the California Native Plant Society will be 9 a.m. to 2 p.m. Saturday at Elderberry Farms Native Plant Nursery, 2140 Chase Drive, Rancho Cordova, on the American River Parkway at Soil Born Farms. Find organic vegetable and flower starts, culinary and medicinal herbs, succulents and of course California native plants.
www.sacvalleycnps.org/fairsevents/plantsale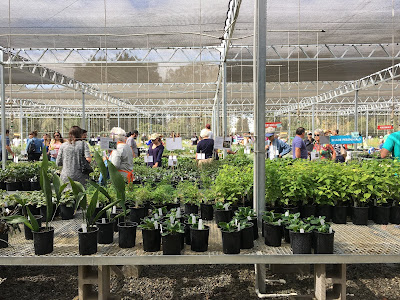 The UC Davis Arboretum nursery offers a wide range of plants at its sales.
(Photo:
Kathy Morrison)
-- The second sale of the season at the UC Davis Arboretum Teaching Nursery will be 9 a.m. to 1 p.m. Saturday. Find perennials for sun or shade, California natives that do well in our climate, and even some trees.
Refreshments, live music, children's activities. Bring your questions to the Master Gardeners Table. 10 percent off prices for members. Membership can be purchased at the door. Future sales will be on April 27 and May 11. Garrod Drive, across from the UC Davis Vet School.
arboretum.ucdavis.edu
More sales are ahead, too. The Sacramento Historic City Cemetery
rose sale
will be April 13-14, for example, and the UCCE Master Gardeners of El Dorado County sale is set for April 20 at the Sherwood Demonstration Garden in Placerville.
Many of the garden clubs that make Sacramento's Shepard Garden and Arts Center their home have sales coming up, too, from April 6-7 (
African violets
) to May 11 (geraniums and chrysanthemums). In between will be irises (April 20-21) and cactus/succulents (May 4-5). Sacramento Digs Gardening will have all the information on these sales as they get closer. Meanwhile, keep an eye on the
Garden Calendar
for gardening events around the region.
-- Kathy Morrison