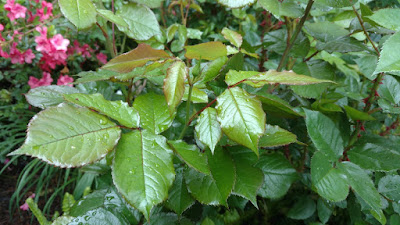 After rain on warm April days, check rose foliage for fungal disease.
(Photos: Debbie Arrington)
Weird, wet weather pattern continues; make most of dry days
So far, April has just felt cold and damp. But warmer temperatures are on the way.
Although rain still hopscotches through the forecast, Sacramento is slowly creeping into the low 70s. Nights are warmer, too, hovering around 50. That's a sweet spot for spring planting. As the weather warms, plant growth will speed up dramatically.
Be ready for it. Start transplanting summer vegetables into raised beds or large pots; the soil warms up faster above ground level. Several vegetables and flowers can be direct seeded into the garden.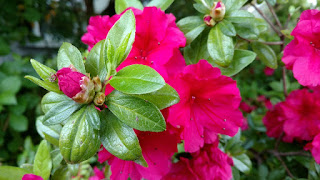 Azaleas are at their peak in April.
This cool weather will lengthen the season for early spring favorites such as peas, lettuce and broccoli. Usually gone in March, camellias and daffodils seem to be sticking around, too. Especially enjoying this weather are azaleas, now at their peak of bloom.
Be on the lookout for fungal disease. With days above 65 degrees, these wet conditions will bring out rust, powdery mildew and black spot. Check rose foliage daily and remove leaves that show signs of fungal problems. Clean up fallen leaves around bushes.
Meanwhile, enjoy sunny days when we get them – and get outside.
* Azaleas and camellias looking a little yellow? If leaves are turning yellow between the veins, give them a boost with chelated iron.
* Trim dead flowers but not leaves from spring-flowering bulbs such as daffodils and tulips. Give the bulbs a fertilizer boost after bloom.
* Start setting out tomato, pepper and eggplant transplants.
* From seed, plant beans, beets, cantaloupes, carrots, corn, cucumbers, melons, pumpkins, radishes and squash. Plant onion sets.
* In the flower garden, plant seeds for asters, cosmos, celosia, marigolds, salvia, sunflowers and zinnias.
* Transplant petunias, zinnias, geraniums and other summer bloomers.
* Plant perennials, summer bulbs and dahlia tubers.
* Transplant one last round of lettuce and cabbage seedlings; choose quick-maturing varieties.