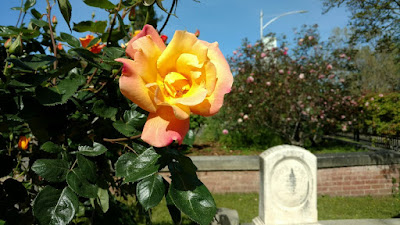 Many roses will be in full glory this weekend at the Historic City Cemetery.
Tours and rose sales will be offered Saturday, with more roses on sale Sunday.
(Photos: Debbie Arrington)
Open Garden Day shows off cemetery's rare roses at their best
Sacramento's world famous "living library of roses" is ready for its close-up, and it smells heavenly, too.
On Saturday, the Historic City Cemetery hosts its annual Open Gardens celebration with free guided tours, displays and a sale of rare roses cloned from its vast collection. Admission is free.
The sale starts at 9:30 a.m. April 13 and continues through 2 p.m. Tours start at 10:30 a.m. For flower lovers who can't make Saturday, any remaining roses will be offered for sale from 11 a.m. to 2 p.m. Sunday, April 14.
Recognized as one of the great rose gardens of the world, the cemetery garden features more than 500 bushes including several varieties found nowhere else in California. These specimens are allowed to grow to their optimal beauty. For example, a white Lady Banks rose climbs nearly to the top of a 60-foot pine tree and cascades with huge bowers of flowers. Several decorative arches are covered with old-time favorites.
Early April is this rose garden's peak of bloom. This week's warm weather has coaxed out millions of fragrant flowers.
For the sale, volunteers lovingly nurtured rooted cuttings of some of the cemetery's most popular roses into mature bushes, ready to plant. These roses are mostly priced at $20 each. See the catalog of roses available here:
https://bit.ly/2CEkdpa
.
In addition to all those roses, Open Gardens Day also features tours of the cemetery's Hamilton Square perennial garden, featuring hundreds of unusual Mediterranean varieties, plus the California Native Plant Society demonstration garden and its spectacular California lilacs.
Free parking is available on surface streets surrounding the cemetery. Enter at the main gate, 1000 Broadway, Sacramento.
Details:
www.cemeteryrose.org
.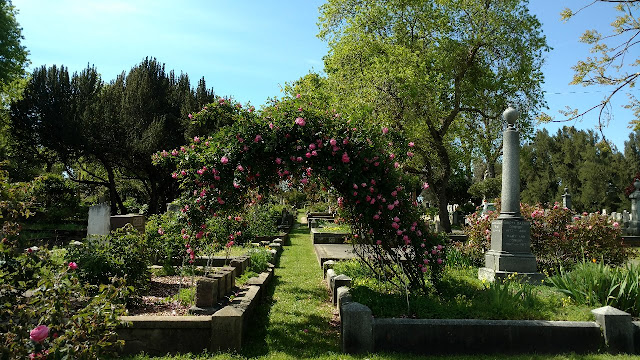 Heritage roses of all kinds bloom this week at Sacramento's Historic City Cemetery.