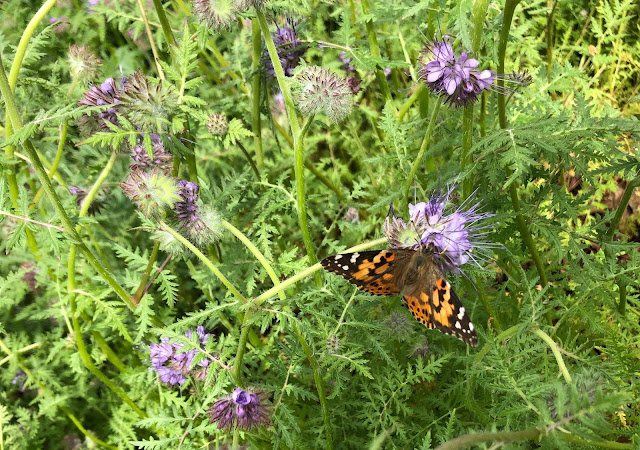 A butterfly alights on a Phacelia tanacetifolia (tansy-leafed phacelia), a California native. "Pollinators and Native Plants" will be among the topics covered Saturday at the Placer master gardeners' Garden Faire. (Photo: Kathy Morrison)
Master gardeners host big event at Maidu Center
So many events, so little time!
Local garden event organizers will make the most of this sunny Saturday forecast with lots of things to do:
Open Gardens
at the Historic City Cemetery, the
Sacramento Orchid Show
at the Scottish Rite Masonic Center, the
ABA Bonsai Show
at Shepard Center and the first
River Park Garden Tour
. (Find details on all of those by following the links.)
Here's another to consider, especially for folks in Placer County.
The Placer County master gardeners will host their fourth annual Garden Faire, featuring dozens of local vendors and clubs, speakers, workshops, plant sale (with lots of succulents), food trucks, kids' activities and more. From 10 a.m. to 3 p.m. Saturday, April 13, the Maidu Center will be bustling with garden activity.
Among the featured speakers: Master gardener programs manager Kevin Marini will share "Top 10 Tips on Vegetable Gardening," 11:15 a.m.; landscape architect Robert Littlepage will discuss "The Future of Water," 12:30 p.m.; and Pollinator Posse founder Tora Rocha will talk about birds, bees, butterflies and more during "Pollinators and Native Plants," 2 p.m.
Among the clubs participating is the Sierra Foothills Rose Society, which will offer expert rose advice. (The club will also have a few potted roses for sale.)
Maidu Center is located at 1550 Maidu Drive, Roseville. Admission is free. Details:
http://pcmg.ucanr.org/
Some other notable events in the region during this jam-packed spring weekend:
* It'll be Second Saturday Open Garden Day at the El Dorado County master gardeners' Sherwood Demonstration Garden. 9 to 11 a.m. Saturday, April 13. Topics will be tips for successful vegetable gardening, growing succulents, and companion planting. Fruit tree pruning demonstration in the orchard. Site features 16 individual themed gardens designed around low-water, low-maintenance plants that do well in El Dorado County. No dogs allowed. $2 parking charged by Folsom Lake College El Dorado Center seven days a week. Exact change required. 6699 Campus Drive, Placerville.
mgeldorado.ucanr.edu
* The Stockton Asparagus Festival starts today (April 12) and continues through Sunday. San Joaquin County Fairgrounds, 1650 S. Airport Way, Stockton. Music, sprint car races, activities and lots of asparagus-focused food. 10 a.m. to 10 p.m. today and Saturday, 10 a.m. to 8 p.m. Sunday. $15 general admission (1 day), $12 children 6-17, 5 and under admitted free. $6 parking.
http://www.sanjoaquinasparagusfestival.net/
and Kathy Morrison