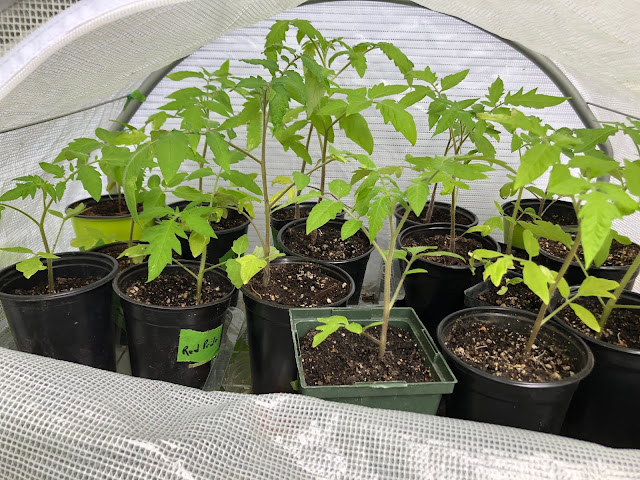 These tomato seedings, protected from the expected rain, are just about ready to go in the ground. (Photo:
Kathy Morrison)
Good planting weather: A little more rain, then lots of sun
Is your garden ready for spring extremes?
The week ahead will have yet more rain with a soggy Monday in the forecast. Overnight lows dip into the 40s on Tuesday, then a string of warm days will push Sacramento afternoon temperatures into the low and mid 80s by Friday, according to the National Weather Service.
What will that do to your newly planted garden? The extra moisture will encourage deep roots. Those balmy days will prompt rapid growth.
Such conditions make this prime time for planting summer vegetables, flowers and more. Watch out for fungal disease, aphids and weeds!
* April is the last chance to plant citrus trees such as dwarf orange, lemon and kumquat. These trees also look good in landscaping and provide fresh fruit in winter.
* Smell orange blossoms? Feed citrus trees with a low dose of balanced fertilizer (such as 10-10-10) during bloom to help set fruit. Keep an eye out for ants.
* Apply slow-release fertilizer to the lawn. It will green up almost overnight.
* Thoroughly clean debris from the bottom of outdoor ponds or fountains.
* Start setting out tomato, pepper and eggplant seedlings.
* From seed, plant beans, beets, cantaloupes, carrots, corn, cucumbers, melons, pumpkins, radishes and squash. Plant onion sets.
* In the flower garden, plant seeds for asters, cosmos, celosia, marigolds, salvia, sunflowers and zinnias.
* Transplant petunias, zinnias, geraniums and other summer bloomers.
* Plant perennials and dahlia tubers for summer bloom.
* Late April is about the last chance to plant summer bulbs, such as gladiolus and tuberous begonias.
* Weed, weed, weed! Pull them out before they flower and go to seed.