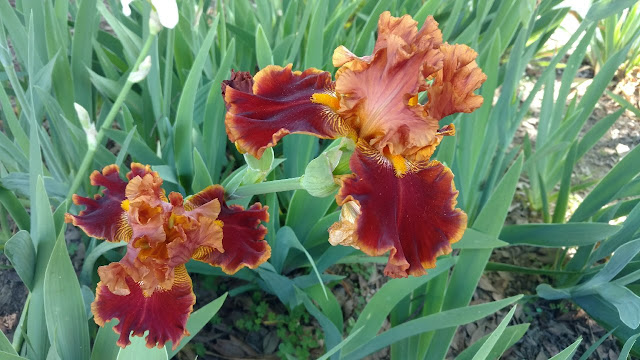 Bearded irises come in all sorts of colors, even bronze. See hundreds of examples at the Sacramento Iris Show.
(Photo: Debbie Arrington)
These colorful flowers are easy care, drought tolerant and spectacular
Irises may be spring's most colorful flower. Bearded irises come in virtually every rainbow hue (even blue) and countless combinations.
See for yourself during the 69th annual Sacramento Iris Show this weekend in McKinley Park. This year's theme -- "Goddess of the Rainbow" – fits the flower's incredible variety as well as the origin of its name. In Greek mythology, Iris was the personification of a rainbow and a messenger from the gods.
This spring, bearded iris blooms have been plentiful in Sacramento, enjoying the cooler temperatures and abundant rain. This tough and easy-care perennial also can cope with Sacramento's hot summers and years of drought, making it a versatile choice for local landscapes.
During the show, Shepard Garden and Arts Center will be packed with iris blooms at their best. Longtime growers and members of the Sacramento Iris Society will offer expert advice on how to get irises to rebloom spring after spring; some varieties repeat bloom in fall, too. Dozens of unusual irises will be offered for sale.
Admission and parking are free. Hours are 1 to 5 p.m. Saturday, April 20, and 10 a.m. to 3 p.m. Sunday, April 21. Shepard Center is located at 3330 McKinley Blvd., Sacramento.
Details:
https://sacramentoirissocietydotcom.wordpress.com/
For folks who can't get enough irises, the National Iris Convention will be held April 22-28 in San Ramon. Tours during the convention include gardens In Loomis and Elk Grove.
Details and registration:
http://www.irises.org