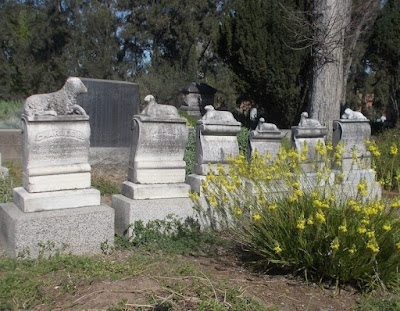 Learn the symbolism behind monument carvings as well as stories
about Sacramento's notable 19th century animal residents.
(Photo: Courtesy Historic City Cemetery)
Historic City Cemetery hosts rescheduled tour Saturday
With warm and sunny weather in the forecast Saturday, Sacramento's Historic City Cemetery will bring back a popular tour that got rained out in early March. Besides, the cemetery gardens have never looked lovelier.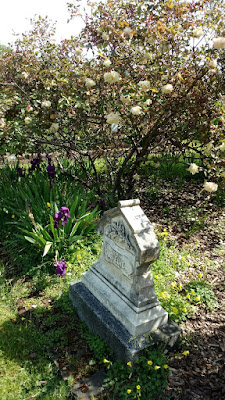 The gardens of the Historic City Cemetery
are now in full bloom.
(Photo: Debbie Arrington)
Enjoy the flowers – along with critter lore – during "Animal Tales," a fun- and anecdote-filled walking tour of the cemetery and its gardens.
Animals – wild or domestic – played a big part of life in early Sacramento. Discover some of the more interesting animal-related stories associated with Sacramento's pioneers and 1800s residents.
At 10 a.m. Saturday, April 20, this guided tour will recall tales of pet bears, boas, parakeets and escaped monkeys as well as note the area's famous horsemen, cattle ranchers, ostrich farmers, beekeepers and more. Also learn some of the animal symbolism used on cemetery monuments.
Admission is free. All ages are welcome; wear sensible shoes for the cemetery's gravel paths.
Meet at the cemetery's main gate, 1000 Broadway, Sacramento. Free street parking is available.
This tour is part of a year-long series, exploring Sacramento history. Upcoming topics include "Sacramento, The Soul of the Railroad" (May 4), "Stonecutters, Sacramento's First Artists" (May 18) and "Take Me Out to the Ball Game" (June 1).
Details:
www.historicoldcitycemetery.org
.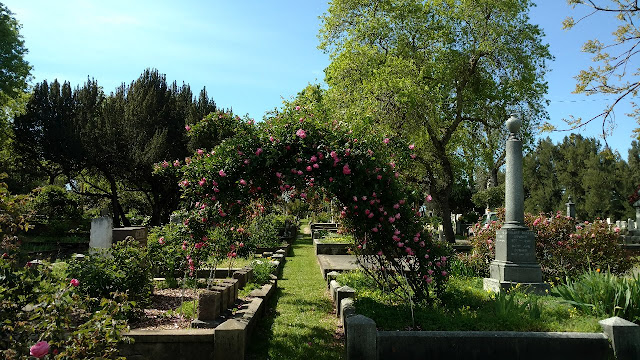 If you missed Open Gardens on April 13, there's still a chance to see the cemetery's famous gardens on this April 20 guided tour (and learn some fun Sacramento history, too). (Photo: Debbie Arrington)