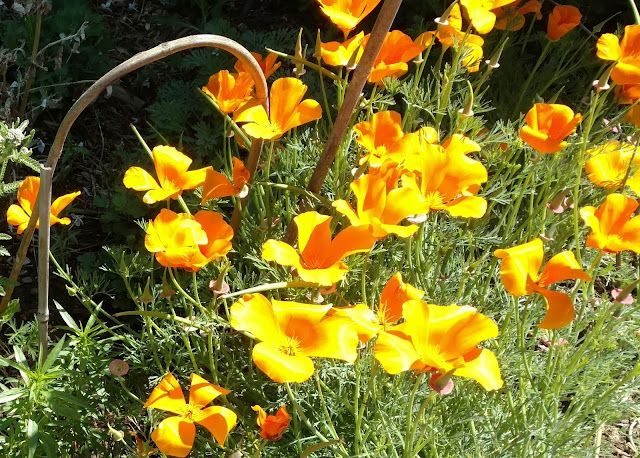 It's a great year for poppies, such as these in the Fremont Community Garden. Many of the stops on the Gardens Gone Native tour this weekend will include California's state flower. (Photo: Debbie Arrington)
24 private gardens show off California native plants
This free self-guided tour is Sacramento's version of the poppy trail.

California's state flower will pop up often on the ninth annual Gardens Gone Native tour, which showcases the many ways to grow natives in the greater Sacramento area.

"I love poppies," said tour organizer Colene Rauh. "I have lots of them in my garden. This is a very good year for poppies."

Set for 9:30 a.m. to 4 p.m. Saturday, April 27, this free event invites visitors to 24 private gardens planted with mostly native species. Of the two dozen stops, 11 are in Sacramento and four in Woodland. Other gardens are scattered in Rancho Cordova, Orangevale, Granite Bay, Fair Oaks and Citrus Heights.

Several gardens are on the tour for the first time. Participants can see as many (or as few) as they like.

Gardeners and docents will be on hand to share their secrets to blooming success. Last year, about 1,000 people took the tour, organized by the Sacramento Valley chapter of the California Native Plant Society.

After a chilly start to spring, recent sunny weather has sped up the bloom. Just as their wildflower cousins enjoyed winter rain and perfect growing conditions, native plants in suburban gardens are looking extraordinary with lush growth and abundant flowers.

"Everything's been kind of late [blooming] because of the weather," said Rauh, noting the cold spell in March. "But these warm days are really good.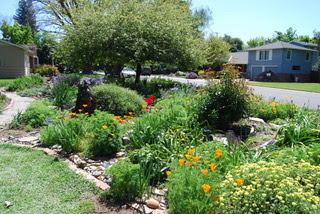 This Sacramento garden on Sagamore Way will be among
the 24 stops
on the Gardens Gone Native tour.
(Photo: Courtesy Sac Valley CNPS)
"The ceanothus is out now. Irises are looking beautiful. Monkeyflowers are starting to bloom. Blue-eyed grass and woodland strawberries love this weather. The sages are doing well. By the tour, there will be a lot to see."

A volunteer at the CNPS nursery, Mark Lum in North Highlands turned his former lawn into a field of wildflower dreams.

"It focuses on bringing the beauty of the wild California super blooms into a neighborhood setting," said Lum, who started his lawn conversion in 2017. "The land needed to retain more water, so I created two rain swales and a mounding landscape. This helped also diversify the growing conditions for the over 50 native species of plants that I seeded or planted.

"The garden is heavy in annuals such as the sky lupine that has a pleasant floral smell when enough are present," he added. "But unique perennials like the fiery tips of the Indian paintbrush also bring in the spring with color."
Added Rauh, "He used all annuals. It's very clever. He's done a lot of research. He's so passionate. It's his own super bloom in his front yard."
Gardens Gone Native Tour: 9:30 a.m.- 4 p.m. April 27. Free. See 24 private gardens in Sacramento and neighboring communities on this self-guided tour. For a map and garden descriptions, register at
http://GardensGoneNative.eventbrite.com
.