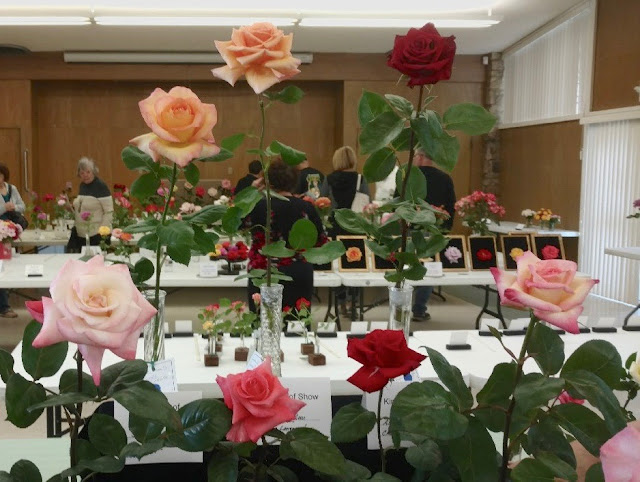 The Court of Honor -- the top winning roses -- from a previous Sacramento Rose Show. (Photos: Debbie Arrington)
Sacramento Rose Show, big volunteer event on Saturday
Love roses? McKinley Park will be the place to be Saturday. Two big events will offer plenty of blooms to admire and some hands-on opportunities.
Hundreds of roses will fill Shepard Garden and Arts Center during the 71st annual Sacramento Rose Show, set for 1 to 4:30 p.m. April 27. Admission and parking are free.
See and smell a wide variety of roses at their best. Arrangements show off the artistry of roses. This year's theme -- "The Golden Spike" – salutes the 150th anniversary of the completion of the Transcontinental Railroad.
Anyone can enter a rose in this show, as long as its home-grown. Vases are provided. Identification help is available. Entries are open 7 to 10 a.m.; first-time (novice) exhibitors should arrive before 9 a.m.
Shepard Center is located at 3330 McKinley Blvd., Sacramento. Details:
www.sgaac.org
.
For folks who want to learn more about roses while also volunteering, the McKinley Park Memorial Rose Garden will host its annual Volunteer Appreciation Day from 9 a.m. to 1 p.m. Saturday.
Hosted by Friends of East Sacramento, the event will include free refreshments from Freeport Bakery at 8:30 a.m. Training sessions on how to deadhead roses will start promptly at 9 a.m.
About 100 volunteers are expected to be out in force, tidying up the famous garden and its 1,200 rose bushes. Among the most popular wedding venues in Sacramento, the 1.5-acre rose garden was featured in the hit movie "Lady Bird."
"If you can't volunteer, at least stop by and enjoy our gorgeous roses in full bloom!" said garden coordinator Lyn Pitts. "The roses will have the biggest blooms for the year as well as the most blooms at one time for the year. You do not want to miss this. The colors will be stunning! It will be a great day to take photographs and selfies, too."
The rose garden is on H Street near 33rd Street. Details:
www.mckinleyparkcenter.org
.