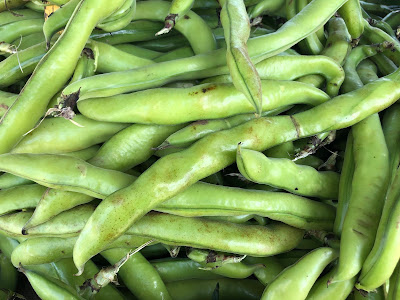 The fava beans are in the markets! They're great with or without a glass
of Chianti
alongside. (Photos: Kathy Morrison)
Fava beans are back at the farmers markets, and if you love these tender legumes, you know their peak season is way too short.

But, oh, gee, they're such a pain to prepare, right? Strip the beans from the big awkward pods, and then skin those beans to get to the bright and delicious insides.

Well, the farmers are on to our complaints, folks. They want to sell those beans, so they're doing some of the work for us.

Saturday, I visited two of our local farmers markets. At each, vendors with fava bean pods (about $2 per pound) also were selling bags of the beans with the skin still on. They were $4 or $5 per bag, depending on the vendor. Since it takes 2 pounds of fava pods to produce 1 cup of beans, my $4 bag of beans was worth about $6 or so of pods. Now, that's a deal, and it made preparing the recipe below so much easier.

I also couldn't resist buying a bunch of authentic Stockton asparagus, and so was thrilled to discover fava beans and asparagus starring together in a New York Times salad recipe.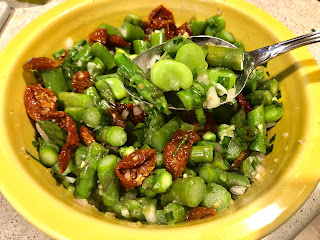 My version of the salad included dried cherry tomatoes.
Both vegetables are blanched and then plunged into ice water to stop the cooking. That keeps them bright and tender, perfect for a salad that is served room temperature or just slightly chilled.

One more note: In the photo of the completed salad, you'll notice some orange-red bits. Those are dried cherry tomatoes that I made and froze late last summer. I used them because I had them, but you can substitute drained chickpeas, canned tuna, diced cooked chicken, sliced mushrooms, or nothing. The favas and the asparagus are plenty by themselves and do not require a supporting cast.
Fava and asparagus salad
Adapted from the New York Times
Serves 4 as a side dish; with added protein it can be a main course salad

Ingredients:

1 cup fava beans (from about 2 pounds of bean pods if starting with pods)
Salt
1 pound asparagus (medium to thick spears work best), ends trimmed
3 tablespoons mixed chopped fresh herbs (I used chives and parsley, with a bit of mint)
Optional: 1/2 cup dried cherry tomatoes or
1 cup drained, rinsed canned chickpeas or
1 cup flaked canned tuna or diced chicken or
1/2 cup thinly sliced fresh mushrooms
Dressing:
1 teaspoon lemon zest, or to taste
1 tablespoon fresh lemon juice
2 tablespoons white or red wine vinegar or sherry vinegar
Freshly ground black or white pepper
Salt
3 tablespoons good-quality extra virgin olive oil
2 to 3 tablespoons minced shallots, or 1 minced fresh garlic clove

Instructions: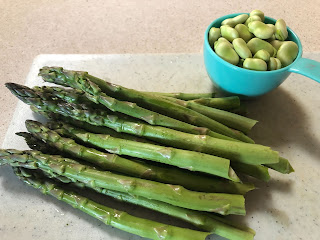 The main ingredients will be blanched for the salad.
Fill a large bowl with ice water and have it nearby the stove. Choose a saucepan or skillet that will eventually fit the asparagus spears after the ends have been trimmed. Fill the pan halfway with water and get the water boiling.

Place the fava beans in the boiling water and cook for 2 minutes. Scoop out the beans with a slotted spoon and drop them into the bowl of ice water, leaving them there for only a minute or two. Do not drain the saucepan; add 1/4 teaspoon of salt and get the water boiling again.

While the water is reheating, scoop the beans out of the ice water and place them on a cutting board or other preparation area, and pat dry. Add some more ice to the bowl of water.

Add the trimmed asparagus to the boiling water and cook for 1 to 4 minutes, depending on the thickness of the spears. Do not overcook. When they're barely tender at the base, pull the spears out of the pan and plunge them into the bowl of ice water. Don't leave them there, though -- remove them to the cutting board or preparation area and pat the spears dry. Cut them into 1-inch lengths and place in a serving bowl.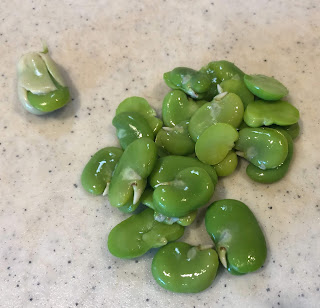 Blanched and skinned favas and one bean, upper left,
still partly in its skin.
Skin the blanched fava beans: I used a paring knife to make a small slit in the outer skin, which should be pretty loose. The inner beans will pop out; add them to the serving bowl.

Stir the chopped fresh herbs into the vegetables, along with a dusting of freshly ground pepper and any optional salad additions you've chosen.

Make the dressing: In a small bowl or glass measuring cup, stir together the lemon zest, lemon juice, vinegar, 1/2 teaspoon of salt and a bit of pepper. Stir the olive oil in well enough to make an emulsion. Taste and adjust the seasonings to personal preference. Blend in the shallots or garlic and taste again.

Pour the dressing over the vegetables, stir until they're coated, and serve immediately, or chill slightly and then serve.

If making the salad several hours ahead, chill the vegetables without the dressing, then let them come to almost room temperature before adding the dressing and serving.