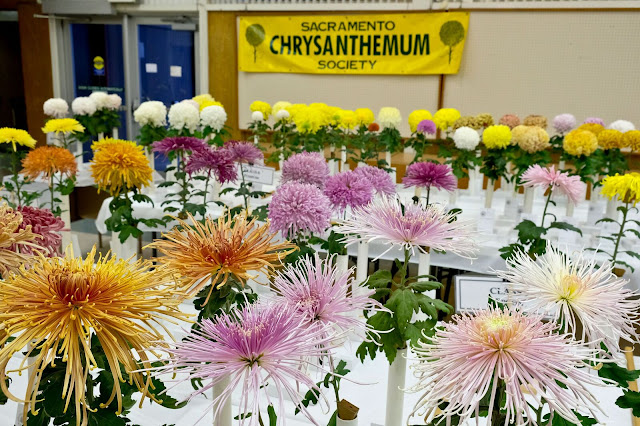 The plants for sale Saturday won't look like these gorgeous blooms, which were on display in the 2017 show, but
many of the cuttings will be from these varieties and more. (Photo
courtesy Sacramento Chrysanthemum Society.)
Chrysanthemum Society offers unusual varieties for fall flowers
It's Mother's Day weekend. Why not get some mums for your mom? (Keep some for your own garden, too.)

This Saturday, May 11, the Sacramento Chrysanthemum Society hosts its annual cutting and plant sale at the Shepard Garden and Arts Center, 3330 McKinley Blvd., Sacramento.

Offered will be hundreds of mum plants, not yet in bloom but ready to set out in the garden or transplant into containers. Dozens of unusual varieties in several different bloom types and colors will be offered.

Discover many of the hard-to-find varieties featured at the annual Sacramento Chrysanthemum Show, held each fall. Spectacular spiders and old-fashioned football mums are just a few of the choices.

"Started by the Mum Society, these plants will give your garden some great fall color and produce blooms revered by flower arrangers," said Sharon Peterson of the the society.

Sale hours are 9 a.m. to 4 p.m. Saturday. Free admission and parking.