With more than 2,000 guests expected, Scott Paris is a very busy host. As he walked through Maple Rock Gardens, his to-do list kept getting longer.
"Like my lady here," he said, wrapping his arm around a life-size topiary of a woman holding a shaggy ivy-covered umbrella. "She needs a trim."
On Saturday,
Maple Rock Gardens
will open its 30 acres for its annual Bloomtastic celebration. From 9 a.m. to 3 p.m. May 11, guests can explore the gardens, eat fresh farm-to-fork food and sip special cocktails. Admission is $10.
Considered among the most beautiful private gardens in Northern California, Maple Rock opens its Newcastle gates only a few times a year. Besides a chance to wander through so much beauty, guests also can relax to live music or marvel at the model trains running on a 1,000-foot course.
"Honestly, for us, spring just started," Paris said, watching a buzz of activity from a hillside terrace. "We just got into the fields two weeks ago. We haven't caught up yet."
That late spring prolonged the season of many cool-weather favorites. Dozens of rhododendrons and azaleas are still in flower. More than 150 Ito peonies are beginning to put on their show.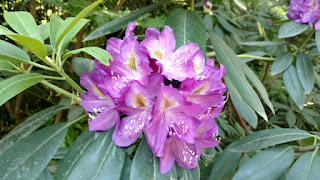 Rhododendrons are now in bloom at Maple Rock.
"Our peonies are just on the edge of bloom," Paris said. "Usually, they're bloomed out by now. The late spring means a lot of things visitors don't usually see at Bloomtastic are in bloom this time."
Besides the spectacular garden areas, Maple Rock also is a working farm. On Tuesday, Maple Rock's farm crew planted 150 flats of transplants, grown by Paris' High-Hand Nursery in Loomis. Those future tomatoes, melons, pumpkins and squash are mostly destined for Paris' High-Hand Café at the nursery.
"We grow anything nature allows us to grow," Paris said.
This past month has been stressful, he said. Pushed back by rain, the construction of a new pool as well as installation of new sewer lines tore up big portions of the garden near the main house. In just four weeks, the work got completed and plants put back in place.
"The funny thing is that visitors to Maple Rock on Saturday might not be able to figure out what we did that was so invasive to the garden," Paris said.
In the 10 years Paris has owned Maple Rock, he has reshaped all of its gardens.
Paris pointed to a line of evergreen trees that runs the length of the property's long driveway. "Just about everything from 30 feet down has been redone," he said, sweeping his hand across the vista. "I keep re-doing. I never stop."
Each season, he redesigns areas or adds features.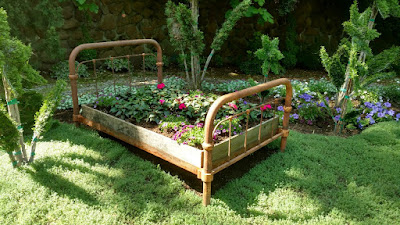 The new "garden bed" at Maple Rock.
"This is my 'garden bed,'" he joked of a unique planter. "I found this old bed frame and thought, 'what can I do with this?' I like to have fun."
What are his favorite flowers? "I like any flower that grows well, presents itself well and is not fussy," he said. "I hate yellow, but if it's a great plant with yellow flowers, I'm good with it."
Gardens should evoke positive feelings, he noted.
"To me, a garden is all emotion," Paris explained. "How do you want to feel here? Zen, tropical, calm, oasis; those are all feelings.
"I try to edit the noise out -- the visual noise – and create a sense of quiet. Then, I add notes back in."
That happy sense of place extends from the lavender fields at the base of the hill to the whimsical water fall at the top.
"This may be the last year for the lavender," Paris said. "I've been thinking about something else in that space…."
Maple Rock is located at 100 Clark Tunnel Road, Newcastle, off Highway 193. Details, tickets and directions:
www.highhandnursery.com
.