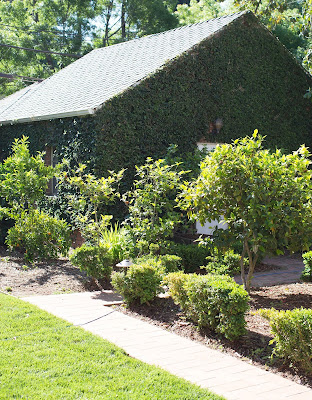 The Duchess Pinky garden will be part of the East
Sacramento Garden Tour this year. (Photo by Michelle
Drewes, courtesy east Sacramento Garden Tour)
English garden of local legend featured during popular event
In a Mother's Day weekend tradition, thousands of garden lovers will be walking through the Fabulous Forties on Saturday and Sunday, admiring seven private gardens usually hidden from public view.
It's the 21st annual East Sacramento Garden Tour, a major fundraiser for David Lubin School.
"It's a perfect family outing for Mother's Day weekend," said volunteer Mary Odbert, one of the tour's organizers.
Tickets are $20 in advance; $25 on tour day. Children age 12 and younger are admitted free. Proceeds support arts, music and after-school programs at Lubin School on M Street.
During the tour, Lubin School also hosts a huge boutique of only-in-Sacramento handmade gifts and food items, great for Mother's Day giving. More than 40 local vendors are participating.
"All the gardens are within walking distance of David Lubin School," said Odbert. "That way, people can stroll through the neighborhood."
Last year, more than 3,000 patrons took part in the tour, thanks in part to the "Lady Bird" house. Seen in Greta Gerwig's Oscar-nominated movie, the big blue colonial mansion was a major draw.
This weekend's tour features a real local celebrity, or at least her garden.
According to "intriguing neighborhood lore," Duchess Pinky often sat on her front lawn, playing the harp and drinking champagne, Odbert said. Pinky no longer lives in the ivy-covered house with brick pillars and wrought-iron gates, but her garden is much the same – an English cottage fantasy.
Another featured stop illustrates a major modern makeover.
"The back of this lovely East Sac home was extended further into the original backyard with a remodel," Odbert said. "The new house footprint meant that the original pool was in an inconvenient spot. (The home owners) hired Michael Glassman and Associates to redesign the yard. He and his team created a lovely hardscape that maximizes the space and completely moved the pool to the left side of the yard, which made room for dining and living areas."
For the tour, Sacramento designer Kerrie Kelly will embellish these outdoor patio rooms, Odbert added.
Besides the gardens and boutique, the tour offers tea, wine and other refreshments at Sutter Lawn, Sacramento's oldest private neighborhood club. (No reservations are necessary for tea this year.) Parked in front of the homes will be vintage cars borrowed from the California Automobile Museum.
"We tried this last year and (the car buffs) enjoyed it as much as we did," Odbert said.
Start the tour at Lubin School, 3535 M St., Sacramento. Tour hours are 10 a.m. to 4 p.m. Saturday and Sunday, May 11 and 12.
Details and tickets:
www.eastsacgardentour.com