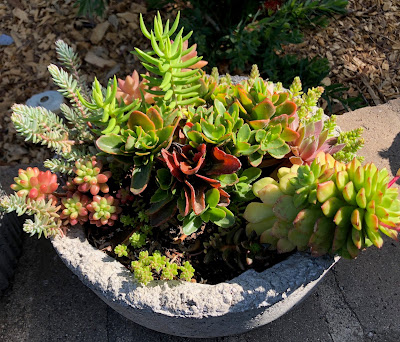 Gardening with succulents and cacti is booming. Get plants and tips at the
Carmichael Cactus and Succulent Society show and sale this weekend.
Want to learn to make a hypertufa container for succulents like the one here?
See the
postscript at the end of the blog post. (Photo: Kathy Morrison)
Carmichael event offers hundreds of choices
Can't get enough succulents? Find amazing specimens on exhibit plus many unusual varieties for sale at this huge event.
This weekend, the Carmichael Cactus and Succulent Society hosts its 43rd annual show and sale at the Carmichael Park Clubhouse. In addition to displays of prized plants, hundreds of succulents and cacti will be offered for sale. Admission and parking are free.
"We have six plant vendors including the best succulent vendor anywhere, David Calibo from San Francisco," said society member Pat Allen. "His plants are incredible. Cactus man Bill Munkacsy (of Plant Seca) is back and so is Merlyn Lenear (and his container gardens); he's really good with agaves, too. Plus our members will be donating plants to sell. I'm contributing 147 plants to the sale table."
This show and sale offers a great chance to learn about succulents as well as build a collection.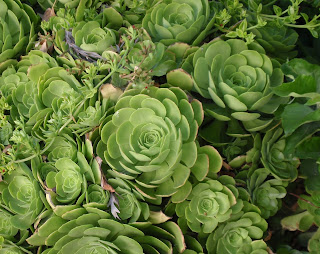 Hens and chicks are always popular succulents. (Photo:
"The first thing people look at is what they're familiar with: Hen and chicks, sempervivums, echeverias," said Allen, who has about 500 plants in her collection. "Then, they start looking around and they become so intrigued! There are so many different ones!"
Hen and chicks are most popular, too. "They always sell out," Allen said. "The agaves sell very well, too."
Show and sale hours are 9 a.m. to 4 p.m. Saturday, May 18, and 9 a.m. to 2:30 p.m. Sunday, May 19. The Carmichael Park clubhouse is located at 5750 Grant Ave., Carmichael.
Details:
www.ccandss.com
.
P.S. What to put your succulents in? How about a handmade planter? On June 1, the Sacramento County master gardeners are offering a hands-on workshop to make lightweight hypertufa planters like the one in the top photo. They look like rustic natural stone and are perfect for planting succulents, cactus, herbs or cascading flowers. Participants will take home the 12-inch planter they make in the class. 10 a.m. to noon, under the trees at the Horticulture Center. All supplies provided; just bring an apron. $40 fee; pre-registration required. Space is limited. Fair Oaks Horticulture Center, 11549 Fair Oaks Blvd., Fair Oaks. Register at
http://sacmg.ucanr.edu/Special_Events/