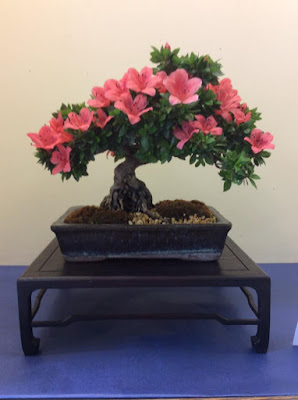 Satsuki bonsai are small azalea trees with full-size flowers.
(Photos courtesy Satsuki Aikokai Association
of
Sacramento)
Learn to make your own azalea bonsai at annual show
Flowers fill May in Sacramento -- even on little trees.

Rounding out the spring bonsai show schedule, the Satsuki Aikokai Association of Sacramento presents its 41st annual show Saturday and Sunday at the Shepard Garden and Arts Center.

What immediately sets apart this show from other bonsai exhibits are the jaw-dropping displays of blooming Satsuki azalea bonsai. Through artistic and careful training, these spring-flowering shrubs are transformed into graceful miniature trees, but with full-size flowers.

Learn how to make your own azalea bonsai. Workshops will be offered at 11 a.m. each day; $20 fee includes the plant.

Show hours are 10 a.m. to 5 p.m. Saturday, May 18; 10 a.m. to 4 p.m. Sunday, May 19. Bonsai masters will offer demonstrations of techniques at 1:30 p.m. each day. In addition, vendors will offer plants, pots and supplies.