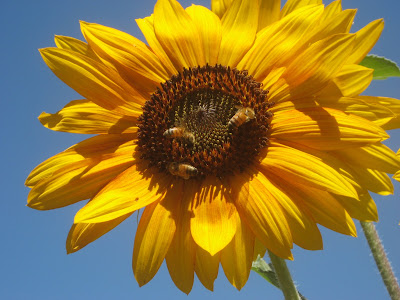 Pollinators (on sunflowers and otherwise) are the focus of the
Charming Garden Tour this Saturday. (Photo: Kathy Morrison)
Tour includes pollinator workshop, free sunflowers and milkweed
Get to know Sacramento's Colonial Heights during the fourth annual Charming Garden Tour.
Set for 10 a.m. to 4 p.m. Saturday, May 18, this tour focuses on pollinators. Tickets include a pollinator workshop at 11:30 a.m. Patrons can take home free sunflowers and milkweed plants, while supplies last.
Hosted by the Colonial Heights Neighborhood Association, the tour starts at Colonial Heights Community Garden, 5420 San Francisco Blvd., Sacramento.
Planned as Sacramento's "ideal subdivision," this neighborhood dates back to the early 1900s. It's bordered by Stockton Boulevard, 14th Avenue, 22nd Avenue and 58th Street. Stately palms line the boulevard leading to the community garden. Refreshments, live music and other entertainment will be offered along the journey. Master gardeners will be available to answer questions.
Tickets are $10 and available in advance here:
https://www.eventbrite.com/e/colonial-heights-charming-garden-tour-2019-tickets-49779768628
Details:
https://www.colonialheightsneighborhood.com