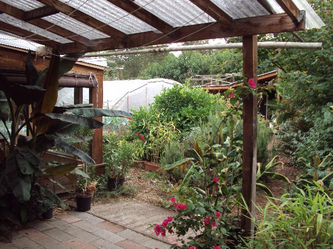 This is a view of Jan Spencer's own backyard with a corner of the sun room
to the
left. The g
reen house and outdoor work area in the distance.
(Photo courtesy
suburbanpermaculture.org)
Learn how your home and garden can be 'greener'
Can you turn your suburban house and backyard into an efficient green mini-farm, feeding your family while helping the environment?
Learn how from expert Jan Spencer. He'll speak on "Suburban Permaculture," a special presentation at 7 p.m. Thursday, May 23, at the Ooley Theatre, 2007 28th St., Sacramento.
Presented by Green Restaurants Alliance Sacramento, this inspirational evening will tackle how communities can create green and resilient homes and neighborhoods to help save the environment one house at a time.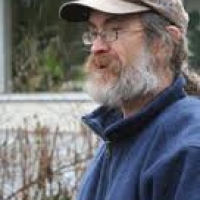 Jan Spencer will speak Thursday at
the Ooley Theater in Sacramento.
Spencer, who lives in Eugene, Ore., is a suburban permaculture expert. In the past 16 years, he's transformed his house on a 1/4-acre lot into a passive workforce, growing food, producing solar energy, gathering rainwater and reducing waste. Learn how Spencer did this and get ideas that can be used in your home and garden.
GRA Sacramento is dedicated to growing a sustainable food community in the Farm-to-Fork Capital. Its programs include turning restaurant waste into compost for local organic gardens and recycling wine corks.
Tickets for "Suburban Permaculture" are $10 suggested donation.
Details and tickets:
www.GRASacramento.org
.