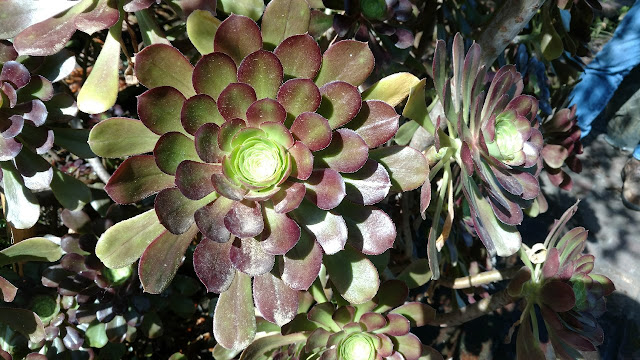 The black aeonium succulent is one of the more popular varieties at High-Hand in Loomis. (Photo: Debbie Arrington)
High-Hand and Secret Garden both hold events this weekend
Succulents are the current superstars of California gardens. Two local nurseries will spotlight these easy-care, water-wise workhorses this weekend with their own versions of "Succulent Extravaganza."

On Saturday, May 25, High-Hand Nursery in Loomis will host Sunset magazine succulent guru Robin Stockwell for two free lectures. Seats are already filled for the 10 a.m and 1 p.m sessions, but standing room will be available.

In addition, a succulent bar will be packed with hundreds of unusual varieties. Stockwell will sign copies of his best-selling succulent books. Demonstrations and other activities are planned. Admission is free.

At Secret Garden in Elk Grove, "Succulent Extravaganza" lasts two days. From 10 a.m. to 2 p.m. Saturday and Sunday, May 25 and 26, the nursery will present several demonstrations devoted to succulent care and creativity. Self-guided tutorials will teach how to make living succulent bouquets and container gardens for every sun zone.

Sacramento County's UC Cooperative Extension master gardeners will staff an information table to answer plant care questions and identify pests. Admission is free.

There's so much succulent demand, Secret Garden will keep the fun going into Monday. From 10 a.m. to 5 p.m. all Memorial Day weekend, succulents will be offered at 15 percent off.