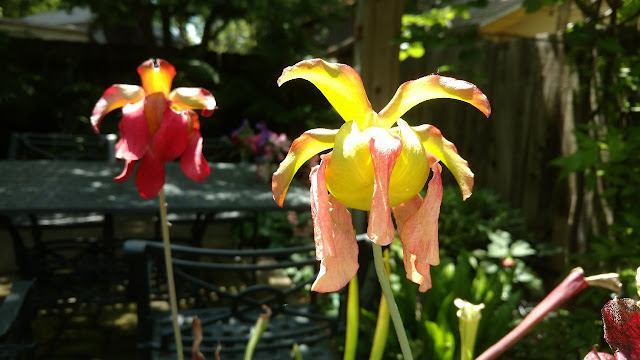 Pitcher plants produce fascinating flowers. See many unusual species at the show this weekend. (Photos: Debbie Arrington)
Sacramento Bromeliad and Carnivorous Plant Show and Sale this weekend
Would Dad like a bug eater?
One of Sacramento's most popular and family-friendly garden events has moved from its traditional dates in late July to this weekend – just in time for Father's Day.
From 10 a.m. to 4 p.m. Saturday and Sunday, the Sacramento Bromeliad and Carnivorous Plant Society will present its 49th annual show and sale at Shepard Garden and Arts Center, 3330 McKinley Blvd., Sacramento. Find hundreds of unusual and rare exotic plants on display and for sale. Admission and parking are free.
"(Our show) was always the last weekend in July – and hotter than hell," said Eric Trygg, past president. "That's wildfire season and, the last couple of years, there was so much smoke in the air, people were told to stay inside. That's also the last weekend of the State Fair, so we had that conflict, too."
Not that June is much cooler than July – as we've seen this past week with triple-digit heat. But society members hope to get a break in the weather (weekend temperatures are forecast in the low 90s) as well as a bump from Father's Day.
"We have spectacular plants for our sale," Trygg said. "They make great gifts."
Carnivorous plants are especially popular with kids, he added.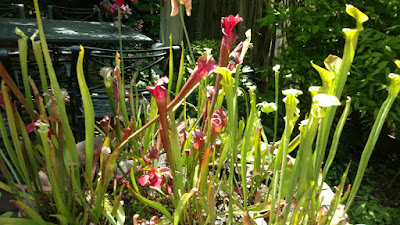 Pitcher plants can be grown outdoors in Sacramento.
"There's a mystique about these plants," Trygg said. "They're beautiful; they're weird. People think of Venus flytraps, but there are actually more than 650 varieties of carnivorous plants including some native to California."
And yes, pitcher plants and cobra lilies will eat mosquitoes (and any other insects that come their way).
"They'll eat anything they can catch," Trygg said. "They're pigs. You never have to feed them; they feed themselves."
Besides a huge selection of bug eaters, the society's sale also features an amazing assortment of bromeliads. These tropical plants are known for their striking foliage in rainbow hues.
"People come in for the carnivorous plants, but they get hooked on the bromeliads," Trygg said. "They keep coming back for more."
Details:
www.sgaac.org
or
https://bit.ly/2Iemj2i