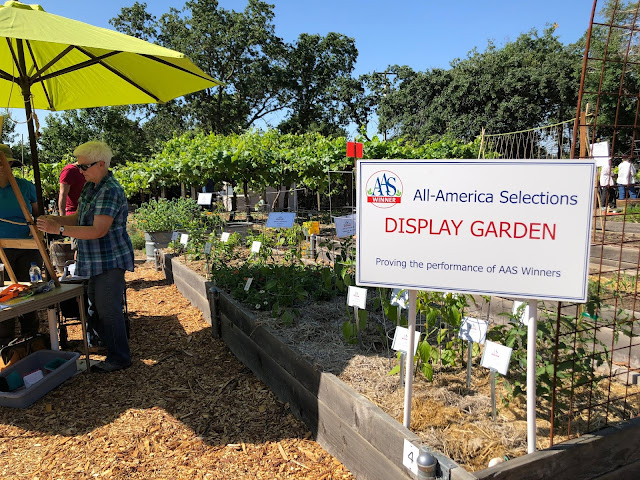 The All-America Selections in the Hort Center's vegetable garden should be much bigger now than when this photo was taken during the May Open Garden. Check out the veggies and all the garden areas on Saturday. (Photos: Kathy Morrison)
Master gardeners host Open Garden at the Fair Oaks Horticulture Center
Got a garden question? Need inspiration? What about a problem pest or plant issue?
This Saturday morning is your big opportunity. It's Open Garden time at the Fair Oaks Horticulture Center in Fair Oaks Park.
From 9 a.m. to noon June 15, the Sacramento County master gardeners open the gates of the Hort Center to visitors to watch them work and learn. Admission is free.
This Open Garden is devoted to summer gardening issues. Among other topics, the master gardeners will demonstrate: the many benefits of mulch; fruit thinning and summer pruning in the orchard; how to tell when blueberries are ripe (with a berry tasting); pest management in the vegetable garden; vineyard canopy management; and building healthy compost.
Three demonstrations are scheduled at 10 a.m.:
-- A demonstration at the Water Efficient Landscape Garden will cover growing sunflowers and succulents.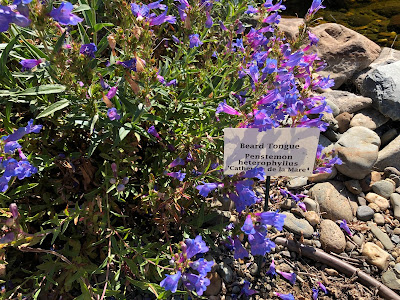 The great thing about finding a cool plant at the Hort Center
is that everything is well-labeled.
-- A walking tour at the Herb Project Area will cover how to harvest and dry herbs, gather seeds and more.
-- Master gardeners who work in the Vegetable Project Area will conduct a demonstration of a non-chemical method for controlling soil-born pests via soil solarization.
Bring your questions to the information table along with examples of problem pests or plant material in a ziplocked plastic bag.
The Fair Oaks Horticulture Center is located at 11549 Fair Oaks Blvd., Fair Oaks. Details:
sacmg.ucanr.edu
Note for gardeners who live closer to Placerville than to Fair Oaks: The El Dorado County master gardeners are now on duty during the El Dorado County Fair from the time the gates open to 9 p.m. Bring your questions to them in
the

Flowers and Plants Building and check out the exhibits there. The theme this year is "Wheelbarrow of Fun."
For more on the master gardeners at the fair, which runs through Sunday, read here .