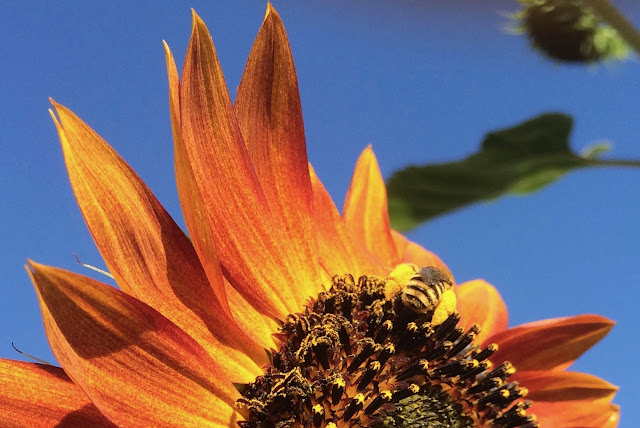 A bee loads up with pollen on a sunflower. (Photo: Kathy Morrison)

Give the bees, butterflies and other garden helpers a treat
It's National Pollinator Week, today through Sunday. No cake needed: We can't think of a better way to celebrate than with a new plant or two to help out these hard-working garden pals.
Right now the bees in my garden are loving the
African blue basil plant
, which is not a good culinary basil but more than makes up for that by bringing pollinators to the vegetable garden. (Note: The flowers are sterile so you have to buy it as a transplant.)
Earlier this spring, one of our posts suggested many plants to grow to entice pollinators. If you missed that, check it out
here
.
Here's what the Pollinator Partnership has to say about why pollinators are so important to our lives:
"Birds, bats, bees, butterflies, beetles, and other small mammals that pollinate plants are responsible for bringing us one out of every three bites of food. They also sustain our ecosystems and produce our natural resources by helping plants reproduce."
Around the area, Amador Flower Farm & Nursery is celebrating Pollinator Week by offering sales on all pollinator plants. They also are hosting a children's coloring contest that lasts all week, and on Saturday and Sunday, June 22-23, the nursery invites families to bring their kids dressed as pollinators. (Got any baby bees in your family?) Ten customers will win bags equipped to get their own pollinator gardens started.
And on Sunday, visitors can see bees up close in Uncle Jer's Traveling Bee Show from 9 a.m. to 4 p.m. For more information on Pollinator Week activities, see their
Facebook page
.
Amador Flower Farm & Nursery is at 22001 Shenandoah School Road, Plymouth. For directions, go to
amadorflowerfarm.com
And if you want to read more on pollinators, check out
pollinator.org
.
-- Kathy Morrison