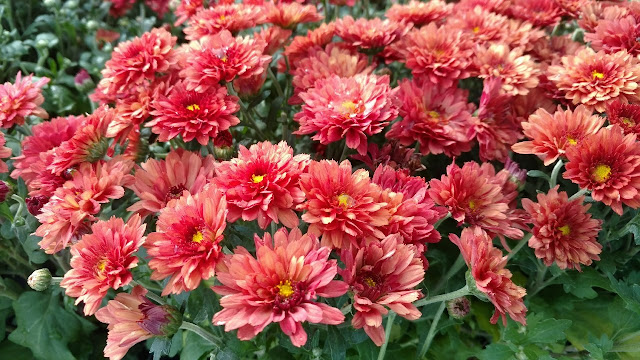 Chrysanthemums often are grown in greenhouses so they can be sold in bloom. (Photo: Debbie Arrington)
Some flowers need to count down to bloom time
Happy first day of summer!
The longest day of the year represents a seasonal milestone to people. To some plants, it represents much more.
Many different plants take their blooming cues from the ratio of daylight to darkness. They're often referred to as "long-day plants" or "short-day plants," but it's actually the hours of dark night that cause their reaction.
Called photoperiodism, this reaction can be found in several crops and popular flowers. (A photoperiod is the number of hours of light in a day.) It not only controls flowering but vegetative growth and root development.
To take advantage of that light-sensitive reaction, commercial nurseries often manipulate the number of hours plants are exposed to bright light or total darkness in greenhouses so plants can be shipped to customers in bloom.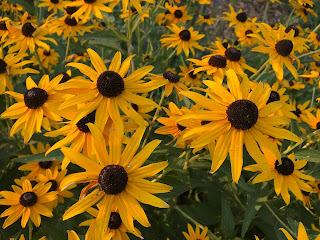 Rudbeckia is a long-day plant. (Photo: Kathy Morrison)
Long-day plants naturally bloom in spring as days get longer. Their trigger is when daylight (or darkness) reaches a certain critical point, which varies by species. That group includes pansies, peas, snapdragons, rudbeckias, petunias, coreopsis, lobelias and Shasta daisies.
Many fall- and winter-blooming plants need shorter days and longer nights to trigger their flower cycles. That group includes dahlias, chrysanthemums and poinsettias.
These short-day plants need total darkness through the night to cue their flower cycles. Outdoor or other artificial lighting can interrupt their "sleep" and keep them from blooming.
Conversely, some long-day plants could be forced into bloom with four hours of intense light in the middle of the night in addition to natural daylight hours.
Research at Michigan State University found that dahlias bloomed much faster when exposed to 10 hours of light daily, compared to 12, 14 or 16 hours. When exposed to light 24 hours a day, they didn't bloom at all.
When will our days and nights be even? That's the autumnal equinox, which this year falls on Sept. 23.