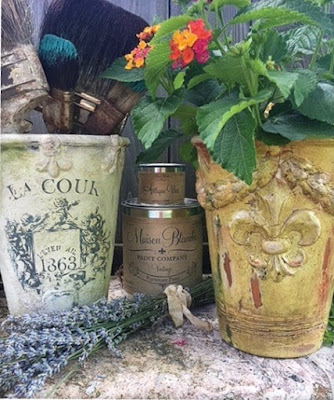 Learn to make chic plant containers like these at High-Hand
this weekend. (Photo courtesy High-Hand Nursery.)
High-Hand hosts Old World-inspired workshop
Bring a taste of the French countryside to your own backyard. At 10 a.m. Saturday, June 29, High-Hand Nursery will offer a course in how to create "French Garden Pots" with Old World flair.
Participants will learn how to use appliques, molds and paperclay to make distinctly French-looking plant containers. They'll also experiment with chalk paint and other finishing techniques.
To top it off, they'll get a beautiful seasonal plant from High-Hand's collection.
Each participant will make two pots to take home. Refreshments include mimosas and fresh-baked scones.
Fee for the two-hour course is $65 including all materials. Sign up now at
www.highhand.com
.
High-Hand Nursery and Fruit Shed is located at 3750 Taylor Road in Loomis.