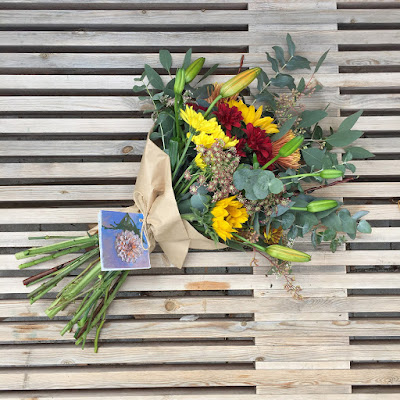 This arranged bouquet was made by Amanda Kitaura of Bloom. Kitaura has
a micro-farm at her Pocket/Greenhaven home.
(Photo courtesy of Bloom)
Sacramento Valley Flower Collective features locally grown blooms
Want a farm-fresh bouquet? Buy local.
Finding locally sourced flowers in the Sacramento area is relatively easy. Growers are all around us. They may even be neighbors.
This is American Flowers Week, a celebration of flower farmers and their beautiful crop.
Locally, several flower farmers have banded together to create the Sacramento Valley Flower Collective (
http://sacramentovalleyflowercollective.com
). Farms of all sizes are part of this group dedicated to bringing flowers from field to vase in the Farm-to-Fork Capital.
The collective lists growers, wholesalers and florists who sell locally sourced blooms and greens. There are suggestions for wedding and event planners looking for garden roses, lilies, sunflowers or other local, seasonal flowers.
Some members, such as Full Belly Farm in Capay Valley, grow produce as their primary crop with flowers on the side. Others, such as Happy Road Farm in Loomis,  are small, family-run operations, dedicated to heirloom and unique flowers.
Amanda Kitaura of Bloom has a micro-farm – started in her Sacramento backyard. She grows prized dahlias and other old-fashioned favorites in planter beds at her Pocket/Greenhaven home. She also enlisted backyard space from friends and relatives.
"I have a suburban farm," explained Kitaura, a former speech therapist. "I grow at four homes. We're small; I don't have acres and acres. … It's small space but high density, as much as I can fit."
Kitaura concentrates on growing her own filler flowers that add distinct personality to her bouquets. "Good filler is harder to find," she noted.
A Sacramento Valley Flower Collective member, Kitaura sells her flowers online at
www.bloomsubscription.com
. Subscribers receive fresh locally grown bouquets weekly, monthly or by special order. Prices start at $35 for a large arranged bouquet on a subscription basis; special orders start at $50.
When she needs more flowers to fill her orders, Kitaura buys them from other local flower farmers.
"There are tons of reasons to buy local flowers," she said. "You're supporting the local economy in your area; you're supporting your neighbors' hard work. Local flowers smell so much better. They're not flown in from somewhere. They're not chemically treated to last for weeks. They're beautiful."
These seasonal bouquets carry a sense of time and place as well as beauty.
Said Kitaura, "They look like they came out of someone's garden, because they did."