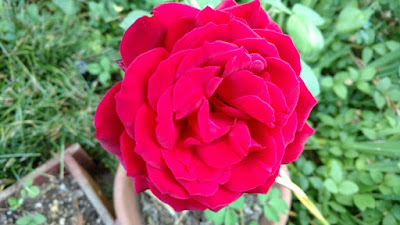 Mister Lincoln is an appropriate red rose for Fourth of July bouquets.
(Photo: Debbie Arrington)
Can you name the top five?
Which flowers best show off patriotic spirit?
July Fourth wraps up American Flowers Week, a celebration of the country's flower farmers and their beautiful crop.

According to Teleflora, the best-selling flowers for Fourth of July are (in order): Red roses, white lilies, white alstroemeria, blue hydrangeas and white daisies. At many florists and supermarkets, all but the lilies likely are imported. Because they don't travel as well as other cut flowers, lilies often are California-grown for the California market.

Red roses are a natural for such bouquets; the rose is the official flower of the United States. But the vast majority of roses sold in the U.S. were grown in South or Central America.

Roses don't need to travel thousands of miles to your table. They grow especially well in the Sacramento Valley -- and are in high demand. Garden-grown roses are a favorite of floral designers who prefer locally sourced blooms. Could you be a future flower farmer?

Need a suggestion for an appropriately patriotic red rose to grow? My all-time favorite is Mister Lincoln, an abundantly fragrant, dark-red hybrid tea.