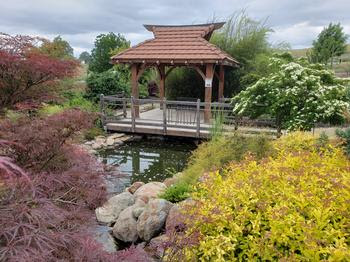 The Japanese garden is one of 16 sites within the Sherwood Demonstration
Garden in Placerville. (Photo courtesy UCCE El Dorado master gardeners)
Two weekend events in Placerville promise family fun
There are many cool places to hang out this weekend but one of the coolest for gardeners is the Sherwood Demonstration Garden in Placerville. And this Saturday morning you can get a guided tour of the place for free. Stick around after that tour and visit the Community Observatory for a free viewing of our garden pal, the sun.
The demonstration garden is a production of El Dorado County's UCCE master gardeners. Both events are at the El Dorado Center of Folsom Lake College, 6699 Campus Drive, Placerville.
The garden tour starts promptly at 9:15 a.m. Saturday, July 6, is one hour long and is open to individuals and small groups. Participants should arrive 10 minutes early. No reservations are required and no fee is charged, though the $2 college parking fee applies. (Exact change is required.) No dogs are allowed in the garden.
Master Gardener Sue McDavid will lead the group through the 16 individual demonstration gardens that showcase the growing conditions and microclimates of western El Dorado County. The plants all are sustainably grown for the gardens, which range from a rose garden to a rock garden. An orchard, a marsh and a native plants garden also are part of the site. Information: http://mgeldorado.ucanr.edu/Demonstration_Garden
The Community Observatory will be open from 10 a.m. to 11:59 a.m. The observatory volunteers will show the sun through their safe solar telescopes, viewing both white light and hydrogen-alpha. Viewers will be able to see sunspots, prominences and maybe even a flare, they say.
Can't make the sun viewing? The observatory will also have night sky viewing at 8:30 p.m. this Saturday and Sunday. For more information: www.communityobservatory.com
-- Kathy Morrison