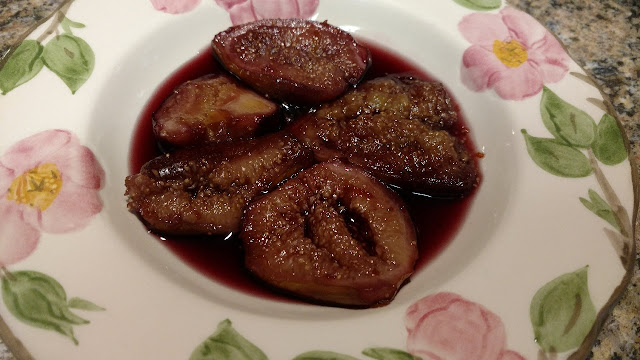 Summer figs, to me, are the epitome of California fruit. They love our climate. They have so much history. They're easy to grow -- plus delicate, generous and delicious.

So much wrapped into one weird little package.

I grew up with backyard Mission fig trees. My grandmother made incredible amounts of fig jam, ready to fill cookies or top toast. The biggest treat was eating the figs fresh off the tree.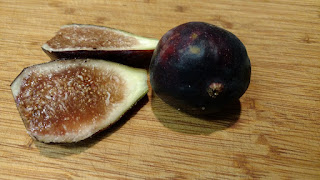 How do you tell if a fig is ripe? Tap it gently three times, my grandmother instructed. If it falls off in your hand, it's ready.

There were times when I tapped those figs like little punching bags, and they still didn't come off. (That became a lesson in patience.)

I still love picking (and eating) fresh figs. Besides straight off the tree, figs are a versatile and flavorful fruit, at home in desserts or salads as well as alongside meat or poultry.

Poached figs are a grown-up treat. As a dessert, poached figs can be topped with ice cream, whipped cream or by themselves. Or they can be served warm with the main course, especially when flavored with thyme or other savory herbs.

Figs poach quickly, so keep an eye on them. They can go from perfect to mushy in minutes.

Match wine with the fig variety: White wine with light-colored figs; and reds with dark figs. Also, experiment with the herb-citrus combinations.

For these Mission figs, I used Malbec with orange zest and lemon verbena. (The uncooked figs went well with the wine, too.)

Poached figs in wine with herbs

Makes 2 servings

Ingredients:
1 cup wine (your choice)

½ cup sugar

1 teaspoon citrus zest (lemon, orange, grapefruit or lime)

1 teaspoon fresh herbs (lemon verbena, thyme, rosemary, lavender, etc.)

5 to 6 figs, trimmed and halved (peeling optional)
Instructions:

In a medium saucepan, combine wine, sugar, zest and herbs. Bring to a boil.

Reduce heat to simmer. Cook for 5 minutes.

Add figs and cover. Poach for 5 minutes or until figs are tender, easily pierced with a sharp knife.

Remove figs with a slotted spoon. Strain poaching liquid, if desired, to make a wine sauce.

Serve warm or room temperature, with or without wine sauce.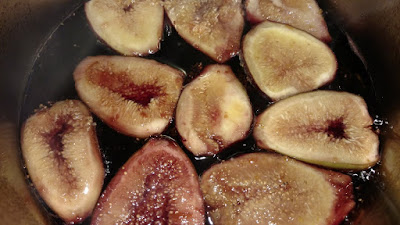 Figs crowd the saucepan while floating in the poaching liquid.