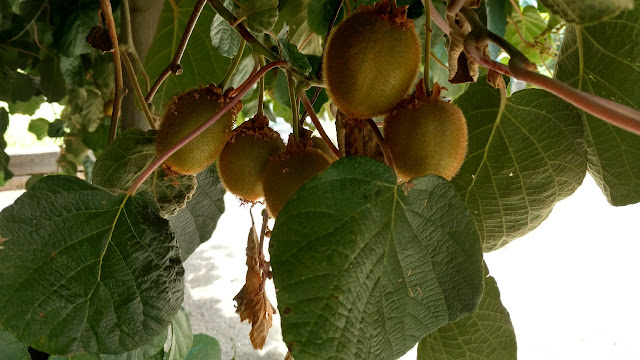 Kiwi fruit hang in clusters on their arbor at The Farm at Cal Expo. (Photos: Debbie Arrington)
Master gardeners will be out in force at Cal Expo
Got a garden question? The place to find answers this month: The California State Fair.
About 100 UC Cooperative Extension
master gardeners
will take turns staffing the answer booth at The Farm during the State Fair, which opens Friday at Cal Expo. With an emphasis on food, this 166th State Fair continues daily through July 28.
Covering more than three acres, The Farm showcases more than 90 California crops and how they grow. From apples and artichokes to watermelon and zucchini, The Farm tells the story of the state's agricultural bounty and a lot more.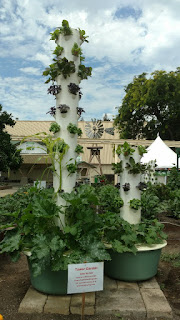 Aeroponic towers can grow food on
"air" (with moisture and nutrients).
In recent years, The Farm has grown into a demonstration garden filled with water- and time-saving innovations. Among those are the 6-foot aeroponic towers, which grow strawberries, tomatoes, herbs and more on moisture forced up the towers by pressurized air. These towers can grow 30 percent more produce on 90 percent less water in 90 percent less space.
Also popular is the step-by-step demonstration garden of how to take out a lawn and replace it with more water-wise alternatives. Large flower beds show off top picks for pollinators and hummingbirds. Want to try unusual backyard crops? Check out the giant kiwi vines and climbing hops.
How do you replicate these results at home? That's where the master gardeners come in. They also can identify mystery plants and problem pests (bring photos) as well as suggest the best vegetables and fruit to grow in Sacramento area gardens.
Starting July 12, the State Fair is open 11 a.m. to 10 p.m. Mondays through Thursdays, 10 a.m. to 10 p.m. Fridays through Sundays. The Farm, which closes about 6 p.m. each day, is located behind Building B next to the Cavalcade of Horses.
Cal Expo is located at 1600 Exposition Blvd., Sacramento.
Details and ticket information:
www.castatefair.org
.
- Debbie Arrington