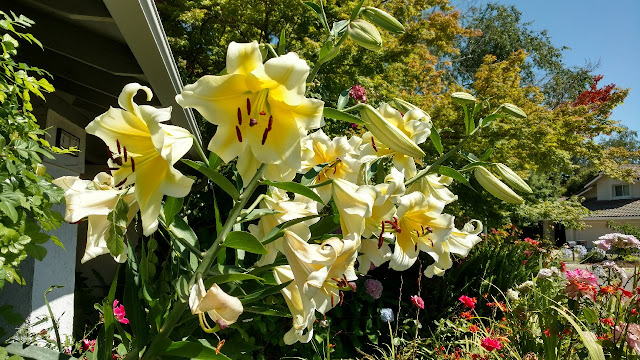 The amazing lily tree blooms each summer, each time a little taller. (Photos: Debbie Arrington)
Gigantic lily tree lives up to its mail order billing
It takes an incredible beauty to upstage Marilyn Monroe. But right now, that's what's happening in my front yard.
"Marilyn" is a hybrid tea that once won Queen of Show at the Sacramento Rose Show. She looks her best in spring and fall.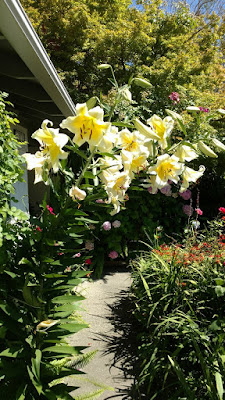 The lily tree reaches the roof line at 8 feet.
Towering over that large, lush rose bush right now is a midsummer spectacular: A lily tree.
It's no tree but a lily with stems as thick as my arm and loaded with fragrant trumpets that dangle over my head. Each trumpet is 6 inches long (at least) and as big across. Standing 8 feet tall, the lily tree is a true scene stealer.
This is one of those rare plants that lived up to its mail order billing. Now in its second decade, this amazing lily sprouts reliably every May. It then grows and grows and grows, each year seemingly a little taller. By July Fourth, it reaches the roof line.
Many tulips ago, this lily tree was purchased as a bare bulb from
Breck's
, the Dutch mail order giant. Founded in 1818, Breck's is now celebrating its 201st year in the bulb business.
I admit I bought the lily tree on impulse. I couldn't resist this description:
"A floral fantasy come true! … Our magical Lily Trees are the breathtaking result from years of selective breeding. They offer you all the advantages of the finest hybrid lilies — massive, upward-facing trumpets of vivid color, delicate fragrance and exceptional reliability. Every plant bears four to five flowers the very first year and 20 to 30 after three years!
"All this on incredibly sturdy stems that reach up 3 to 4 feet the first year, 5 to 6 feet the next year and upwards to 6 to 8 feet in three years!"
I had to see that!
Also marketed as Orienpet lilies, lily trees are a cross between oriental and trumpet varieties. I picked a three-bulb special of unnamed varieties and planted them among the roses and perennials. Two lily trees grew for several seasons before disappearing, crowded out by other plants.
But this one giant has become more eye-popping every year. It's never been dug up, and rarely fed. It just wakes up in late spring to put on its show. The blooms start pale yellow and fade to creamy white as they open. (It's similar to Breck's current Pretty Woman variety.) In my flower bed, it's my summer star.
Some like it hot.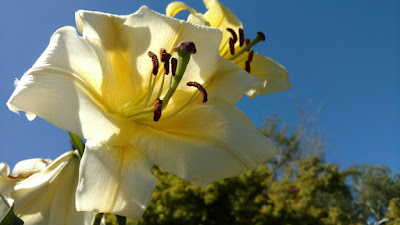 The trumpet flowers are 6 inches long and as big across.