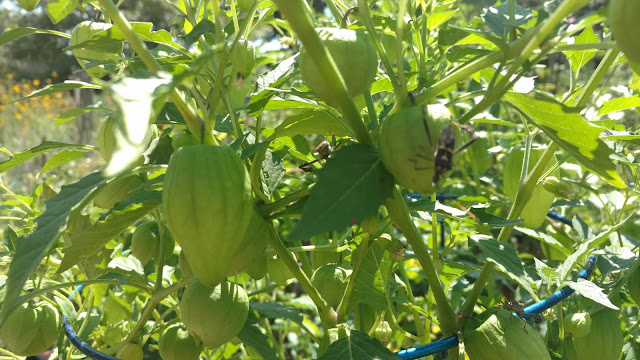 These leaf-footed bugs are hanging out in tomatillos, but they like all kinds of ripening summer produce. (Photo: Debbie Arrington)
Leaf-footed bugs love ripening fruit
Have you seen this bug? It can literally suck the joy out of summer, especially if you grow tomatoes.
Looking like some strange prehistoric creature, the leaf-footed bug is a real stinker. It stabs its long mouthparts into nice juicy tomatoes and other favorite targets, then sucks out the moisture.
Usually found in clusters, the young nymphs seem to appear out of nowhere, climbing over ripening fruit to look for just the right spot to dine. They quickly get big and scary-looking; adults measure over an inch tall.
Three different species are native to California. They're related to stinkbugs and attack a lot more than tomatoes. They're also fond of pomegranates, almonds and watermelons. Damage often is only cosmetic.
Leaf-footed bugs tend to hang out and breed in weedy areas (they love thistles) before moving into the tomato patch. (That's another reason to keep weeds down.)
Catch these bad bugs while they're young. The nymphs move slowly and can't fly.
Knock them off into a bucket of water; add a teaspoon of liquid detergent to the water to assure a quick demise. No pesticides are necessary. But wear gloves; if touched, these bugs will make your hands stink.
Leaf-footed bugs can have multiple generations each summer, so more nymphs may pop up at any time after May. Keep that bucket handy.
For more on these pests, check out these recommendations from the UC Cooperative Extension Pest Notes:
http://ipm.ucanr.edu/PMG/PESTNOTES/pn74168.html