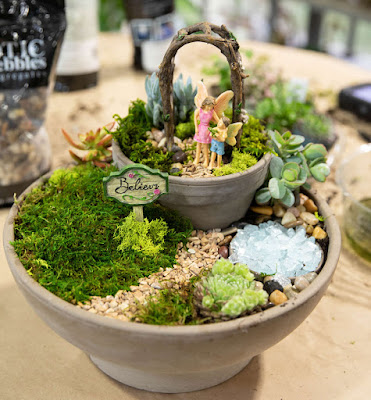 Make your own fairy garden at Green Acres.
(Photo: Courtesy Green Acres Nursery & Supply)
Three locations offer Tuesday evening DIY workshops
Discover some fantastical gardening (made for indoors).
Fairy gardens and airplants are on tap this month during Tuesday evening gardening workshops at
Green Acres Nursery & Supply
.
Reservations are now open for both classes, offered at three locations: Elk Grove, Folsom and Rocklin. Class size is limited; sign up at
www.idiggreenacres.com
under "July Events."
At 5:30 p.m. July 23, "DIY Fairy Gardens" will teach participants how to make their own little succulent world. Included in the package are: clay bowl; clay pot; clay saucer; three Fairy Garden accessories such as tiny signs or winged beings; three succulents or foliage plants; and everything needed for planting, such as cactus mix and potting soil. Go home with a unique Fairy Garden to keep or give, plus advice on its maintenance to help it thrive. Class fee is $50.
At 5:30 p.m. July 30, learn all about airplants – the fascinating bromeliad genus, Tillandsia. Native to northern Mexico and southeastern U.S. as well as other parts of the Americas, these unusual plants like to live in places without soil, such as in the crook of branches or on wires. Adapted to their habitats, their silvery leaves can absorb water droplets rapidly, as if they live on air.
How do you keep airplants happy at home? "DIY Workshop: Airplants on Grapewood" shows the keys to success. Included is a suitable piece of grapewood with nooks to establish these epiphytes, three airplants, moss and other supplies. Fee is $25.
Find these workshops at Green Acres in Elk Grove (9220 E. Stockton Blvd.), Folsom (205 Serpa Way) and Rocklin (5436 Crossings Drive).
Details:
www.idiggreenacres.com
.
– Debbie Arrington