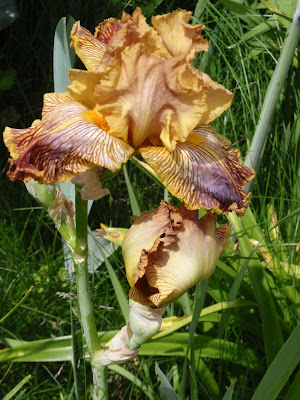 This unusual bronze bearded iris grew from a rhizome
purchased at an earlier Iris Society sale. (Photo: Debbie
Find hundreds of varieties at annual sale this weekend
Got iris? This popular flower may be the ultimate low-water spring perennial for Sacramento. It blooms year after year with little (if any) extra irrigation or care.
Bearded iris is a great choice for the foothills, too. They're deer-resistant as well as drought-resistant.
Find irises in an amazing range of colors, patterns and combinations at the annual Sacramento Iris Society rhizome sale this weekend at Shepard Garden and Arts Center.
From 9 a.m to 3 p.m. Saturday and Sunday, July 20 and 21, society members will offer thousands of recently dug iris rhizomes, the tuberous roots of bearded iris. Hundreds of varieties will be available.
Each specimen will be labeled with cultivar information and a description of its color and appearance. In addition to the spring-blooming varieties, a large selection of reblooming varieties will be available. Extending the iris season, these rebloomers produce a second round of flowers in summer or fall.
With each purchase, receive a free permanent garden label to go with your new iris. A demonstration table will show how to properly plant iris rhizomes. Iris experts also will answer questions and share advice.
Admission and parking are free. Bring cash or check. The Shepard Center is located at 3330 McKinley Blvd., Sacramento.
Details:
www.sgaac.org
.