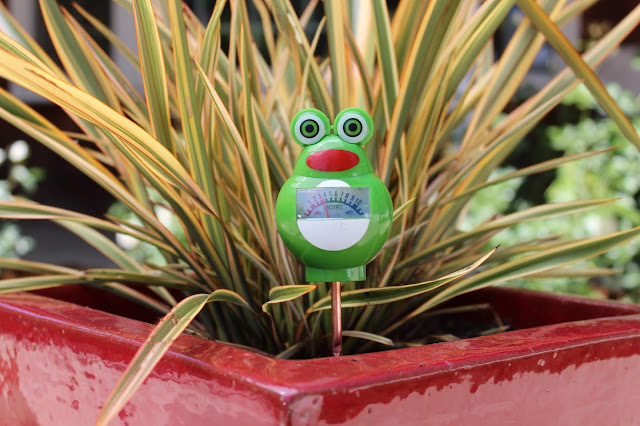 This little frog sits atop a free moisture meter. Get one from the Regional Water Authority. (Photo courtesy RWA)
Free meter is a handy way to know when garden needs water
During hot summer weather, Sacramento gardeners often ponder the same question: Is my garden getting enough water? Next question: How do you tell?
Check the soil.
You can dig down with a trowel and actually look at the soil. Plunge a screwdriver into the dirt to see if it penetrates. Or you can check the soil with a moisture meter.
The Regional Water Authority, the umbrella organization over greater Sacramento's 21 water districts and agencies, is now offering free moisture meters for area residents.
"They're a low-tech answer (to efficient irrigation)," said Amy Talbot, RWA's water efficiency program manager. "They're tangible, visual reminders every day. They're easy to use. You can get your kids involved; let them check the moisture. We want people to use them."
Like an instant-read thermometer, the moisture meters are super easy to use. Just plunge the probe into the soil and it tells you if the ground is too dry, too wet or that just right moist spot in between.
These meters also can be key to a healthier garden.
"In non-drought years, focus on making your plants healthy," Talbot said. "That means giving them the right amount of water; not too little, but not too much."
The froggy meters are part of RWA's "Check the Soil and Save" campaign. To get your free moisture meter, go to
BeWaterSmart.info