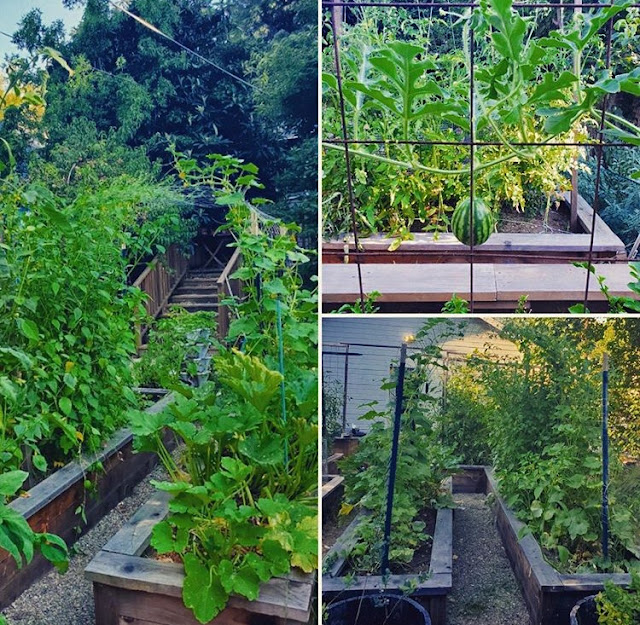 Joe Robustelli's garden, near 13th and W, produces a bounty of fruit and vegetables. (Photos courtesy GardentheGrid.com)
One Grid gardener did it; see how on Midtown Garden Tour
How much food can be produced in a city backyard? A few pounds? Make that a few tons.
Joe Robustelli knows, and he'll show how he does it. His garden is among the featured stops on Saturday's Midtown Garden Tour.
"I have a large lot with very, very old fruit trees," Robustelli said. "I got 800 pounds (of fruit) from my apricot tree this year alone. My peach tree went crazy, too."
What did he do with all that fruit? "Urban Roots (brewery) is just down the alley from my house," he said. "They're making beer from my peaches."
In all, Robustelli has 15 fruit trees and five raised beds for vegetables at his Sacramento home, near 13th and W streets. He also has his own chickens, which provide eggs as well as a constant source of high-grade fertilizer. He shares his bounty with neighbors and at the Victorian Alley farmers market.
"I let people come and get produce," he said. "I have plenty."
During the tour, Robustelli will explain how he manages to pack so much produce into a relatively small space.
"My favorite thing to grow? Anything that's self-seeded," he said. "I like all the volunteers that keep coming back on their own year after year: Cherry tomatoes, tomatillos, cucamelons."
Cucamelons? Those are Mexican sour gherkins, tiny little cucumbers than look like miniature watermelons.
Edible gardening is a big focus of the Midtown Garden Tour, which features 15 gardens on Sacramento's Grid. Tickets are $10 and available at
www.gardenthegrid.com
. The gardens will be open from 8 a.m. to 2 p.m. Saturday, July 27; come early to beat the heat.
On tour day, tickets also will be available at New Era Community Garden, 204 26th St., Sacramento.