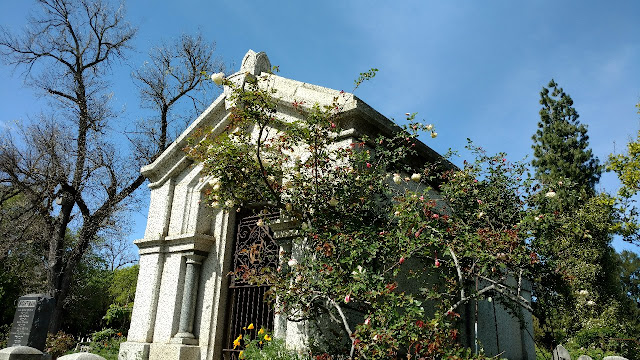 Who's buried there and what's their story? Find out Saturday during a free guided tour at Sacramento's Historic City
Cemetery. (Photo: Debbie Arrington)
Cemetery's 'Mausoleum' tour spotlights early history
Consider these tales from the crypt, Sacramento-style.
At 10 a.m. Saturday, Aug. 3, explore the Historic City Cemetery and learn more about the civic leaders and pioneers who earned the grandest resting places.
This free guided tour is devoted to "Mausoleums," the impressive monuments that house tombs – either individually, for couples or for entire families.
The cemetery's mausoleums contain a fascinating collection of Sacramento leaders, including familiar names as well as some all but forgotten. Get the true stories behind the marble and granite monuments.
Surrounding the tombs, the cemetery's famous gardens will be in full summer flower as a bonus to this walking tour.
The weather forecast for Saturday morning is mild with temperatures in the high 70s or low 80s. Wear comfortable shoes, a hat and sunscreen.
The cemetery is located at 1000 Broadway, Sacramento. Meet at the cemetery's main gate at 10th Street and Broadway. Parking is available on surface streets.
The next history tour: "A Dozen Ways to Die," 10 a.m. Sept. 7.
Details:
www.historicoldcitycemetery.org
.