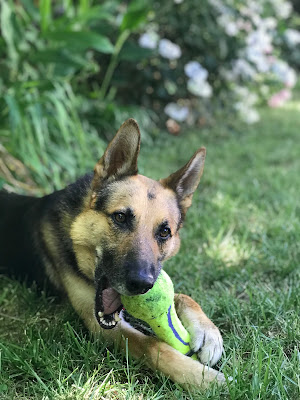 Rambo is enjoying garden time during the dog days of
summer. (Photo by Cheryl Rose.)
Nursery chain celebrates 'Dog Days of Summer' with specials, photo contest
It's the dog days of summer! Time to bring the pooch to Green Acres!
At all five locations, Green Acres Nursery & Supply celebrates August and our canine companions with its annual "Dog Days of Summer" garden party on Saturday, Aug. 10.
All shoppers who bring their dog to Green Acres get a 10 percent discount on annuals, perennials, shrubs and trees. They'll also get a free commemorative doggy bandana, while supply lasts.
Experts will offer advice on pet-friendly landscaping as well as pet-safe plants and garden products.
Let your furry friend sniff through a special Scavenger Hunt and a chance to win a $50 Green Acres gift card.
Leading up to Saturday's festivities, Green Acres is hosting a doggy photo contest online through Friday with different themes each day. Monday's theme was "belly up" (time for belly rubs!); Tuesday's is dog "planting" (do you have a digger?). Enter for a chance to win a $100 gift card.
Details:
www.idiggreenacres.com
.