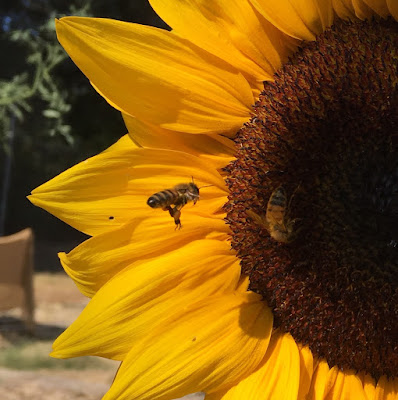 What's the buzz? UC Davis is now a Bee Campus USA affiliate.
University becomes part of nationwide pollinator-friendly network
There's a new buzz about UC Davis. It's the first University of California campus to be certified as a Bee Campus USA affiliate.
What does that mean? Through the efforts of the UC Davis Arboretum and other pollinator-friendly initiatives, UC Davis has become a particularly welcoming place for bees.
The certification comes from the Xerces Society, a non-profit organization that promotes bee conservation. UC Davis joins more than 165 other communities and colleges that are part of the Bee City USA and Bee Campus USA network; UC Davis is the 78th college or university to receive the recognition.
The Bee Campus USA program "aspires to make people more PC — pollinator conscious," Scott Hoffman Black, executive director of the Xerces Society, said in UC Davis' announcement. "If lots of individuals and communities begin planting native, pesticide-free flowering trees, shrubs and perennials, it will help to sustain many, many species of pollinators."
As part of its new status, UC Davis formed a committee to develop a Campus Pollinator Habitat Plan to keep tabs on pollinator progress as well as host outreach programs. Read the full announcement here;
https://arboretum.ucdavis.edu/news/bee-campus-usa
UC Davis is also home to the Haagen-Dazs Honey Bee Haven, a habitat devoted to bee happiness. About 30 different species of bees have been spotted in The Haven so far this year.
Learn more about them during The Haven's 10 a.m. open house Thursday, Aug. 8. Admission is free. The Haven is located in west campus near the UC Davis airport and the Laidlaw Bee Research Facility on Bee Biology Road.
Details:
https://beegarden.ucdavis.edu/