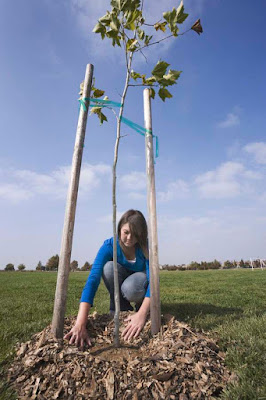 Make a "donut" of mulch around a tree. (Photo
courtesy Sacramento Tree Foundation)
SacTree shares tips, hosts mulching event
What's the best mulch for trees?
According to the Sacramento Tree Foundation, wood chips make the best mulch.
Avoid rocks or bark, said Pamela Frickmann Sanchez, the foundation's education program manager.
Rocks absorb heat and add nothing to the soil. Bark takes too long to break down. But wood chips slowly release nutrients while also retaining moisture and keeping soil (and roots) cool.
"Put the wood chips directly on top of the soil (or lawn surrounding the tree)," Sanchez instructed. "Don't use landscape fabric underneath; that prevents decaying wood chips from benefiting the soil. All that rich organic matter just ends up on top of the fabric, feeding weeds and not the tree. You'll end up with worse weeds than with no fabric at all."
Get more mulching advice – and help lots of trees – during SacTree's upcoming Mulch Day at Bohemian Park in Arden-Arcade. Starting at 8:45 a.m. Aug. 24, volunteers will spread wood chip mulch around the park's trees.
"We mix mulching with education," Sanchez said. "You'll learn as we work."
That includes the correct way to mulch a tree. Spread the chips like a thick doughnut around the tree, leaving space next to the trunk.
All ages are welcome to join in during the Aug. 24 event, part of SacTree's summer-long Mulch Mayhem campaign. Register in advance at SacTree's website.
Bohemian Park is located at 3131 Wright St., Sacramento. Participation in Mulch Day is free.
For more tips and to sign up for Mulch Day:
www.sactree.com/events
.