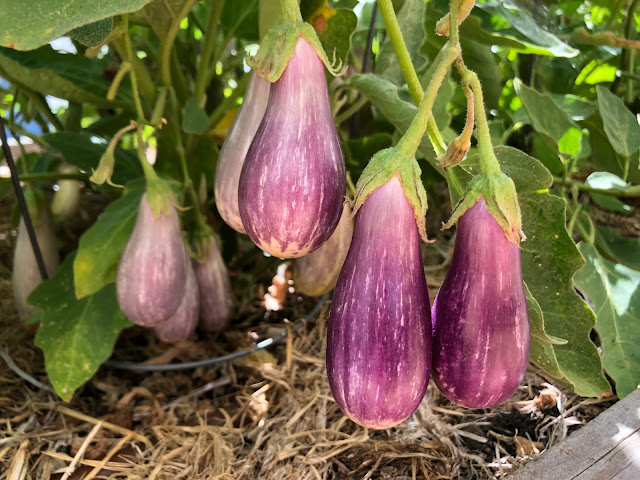 Pretty eggplant can be scorched by the sun -- harvest them before they burn.
(Photo: Kathy Morrison)
Stay hydrated -- both you and your plants
The heat is on! After a very mild August, Sacramento is getting blasted with triple-digit temperatures and the hottest days of the year (so far).
The National Weather Service issued excessive heat warnings for all of the Sacramento area. With high temperatures expected to top 105 degrees, conditions are described as "dangerous."
"Heat like this only happens a few times a year," according to the NWS bulletin. "Heat risk is high across much of the area, even for the general population.
"The rest of this week will see high temperatures in the triple digits in the Valley and some foothill locations," added the NWS Sacramento office. "Little cooling is expected overnight. Stay hydrated and limit time outdoors if possible."
Air quality districts also announced "Spare the Air" alerts with unhealthy air quality expected for sensitive groups such as children, seniors or people with heart or lung disease.
In other words, avoid being outdoors. Water plants deeply in the early morning or evening. Pay extra attention to container plants; they can dry out quickly.
Stay hydrated yourself, too. Drink plenty of water (not soda or coffee). When outside, dress in loose, lightweight clothing. Wear a hat and sunscreen.
During this heat wave, bring in your pets; if kept outside, make sure animals have shade and fresh water.
As for your plants, most cope better with heat than people do, as long as they have enough moisture. Check the soil around plants in the morning and water as needed. Avoid adding any fertilizer during this heat spell.
Tomatoes, peppers and eggplant can sunburn; harvest them before they bake on the bush.
The good news: This heat wave will be short. According to the NWS, we'll be back to 89 degrees on Sunday – below normal.